When I was at Fully Charged LIVE, one of the more interesting displays was a private owner of a Tesla Model X and Casita travel trailer showing off his rig.
Mike Zuteck gave me a tour of his towing setup. As he's in the aeronautics industry, he was especially interested in modifying his trailer to minimize wind resistance.

The tow vehicle is a Tesla Model X 100D. The trailer is a Casita, weighing in at 2,200 lbs.

Mike said that he's towed the trailer as far as 193 miles on a single charge, but that doesn't really count, as it was "downhill with a tail-wind."

Typical towing range would be 120-150 miles. However, Mike says that what he likes to do is only tow 80-120 miles. The reason is that it takes advantage of the SuperCharger network. High speed DC charging is fantastic, but slows down greatly above around 80%.

Charging a bit more frequently, but NOT to a full charge actually REDUCES total charging time.

Some other people have also realized this and have used it to reduce travel time on long-distance trips. Our friend, Benswing Rich, used the same technique to drive over 500 miles a day in his Tesla Model 3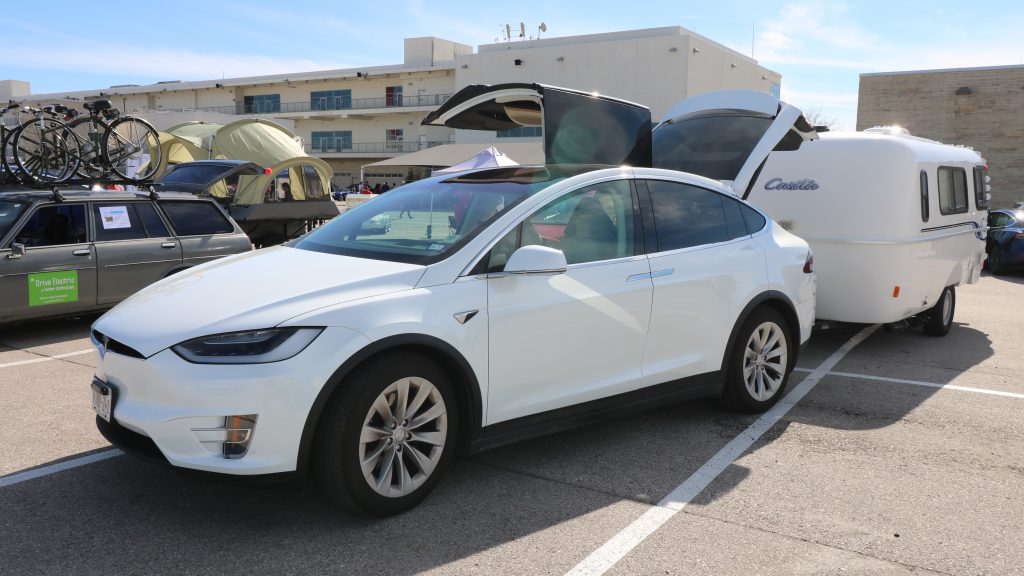 The trailer itself is a single-axle fiberglass trailer, complete with a full kitchen and bathroom. This little home-away-from-home includes full hook-ups, plenty of storage space, and an aerodynamic shape reminiscent of Airstream trailers.
Of course, the trailer isn't stock on the outside. It's been modified with a rear "Kammback", built from corrugated plastic and a solar panel. Placing the solar on this rear wing helps prevent heat build-up in the roof and also acts as a sun visor for the back window, both important for Texas heat.
The sides of the trailer feature "Vortex Generators" – triangular shapes that force the air to swirl, speed-up, and wrap around the rear of the trailer.
Of course, the wheels have flat plastic aerodynamic hubcaps and the wheel wells are closed up Honda Insight style.
Up in the Model X, Mike showed me a few of his creature comforts.
He has an electric cooler which plugs directly into the 12VDC jack in the back of the Model X. This means no spending money on ice, lugging it around, and then just having it melt. No more soggy food!
https://amzn.to/37laJic

He also has a dedicated ice machine. While it could be run off an inverter, Mike instead just plugs it in when at a camp-ground. The machine produces a pound of ice an hour, and more than keeps up with the requirements for a round of margaritas.
https://amzn.to/3qu8TTB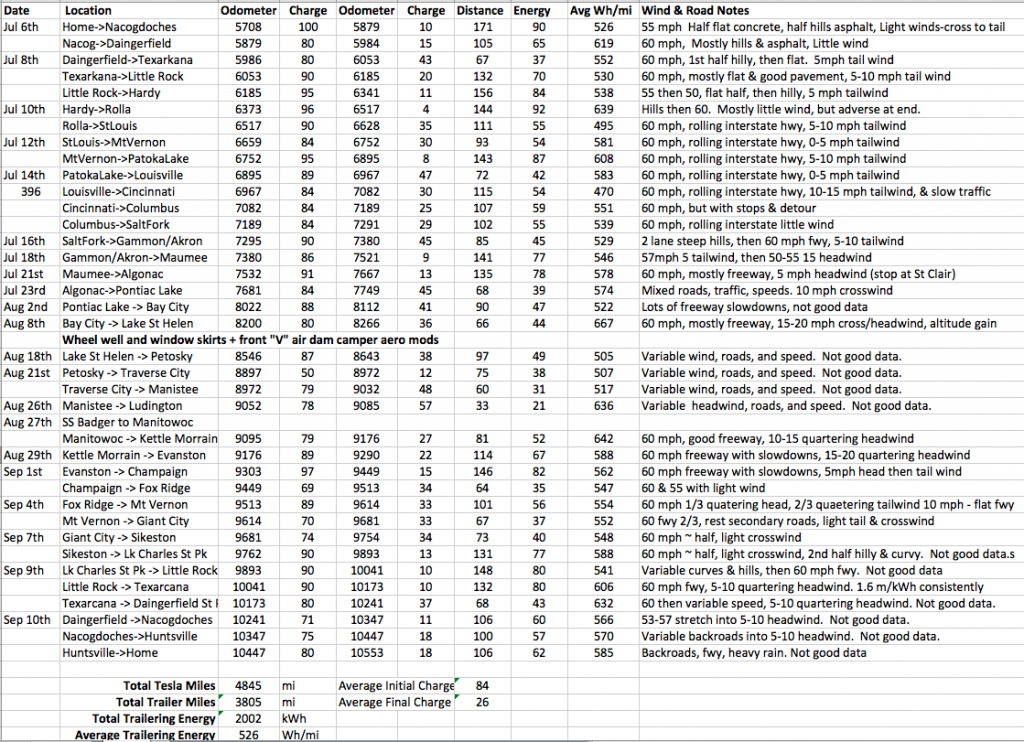 As any good engineer would, Mike has kept detailed records of his travels. The chart shows shows mileage, range, energy used, and the wind and road conditions.
If you are considering towing with an electric vehicle, take a close look at this data. In this author's experience, towing with any trailer in general cuts EV range in half. But that's not as bad as it sounds if you start with a vehicle with a good sized battery pack AND have access to a solid charging system. At this point, Tesla is far ahead of the pack on both counts!
A big thank you to Mike Z. for the tour and sharing his experience with us.
Until next time, stay charged up!
-Ben Nelson

PS: I recently heard from Mike as Texas was hit with a terrible winter storm. Like many people, he was without water, heat, and power at his house. The car and trailer were able to act as a life-boat, with heat, light, and electricity. Nothing quite like being prepared!