I was recently contacted by the folks at CHRGET. They said they were coming out with a new EVSE, and asked if they could send me one for review. Of course, I said yes!
*Full Disclosure – Why would they send me one for free? Well, they would want the advertising, as they are doing a Kickstarter for this product. They simply asked that I review the product and share it with my audience. (They never said anything about needing it back!)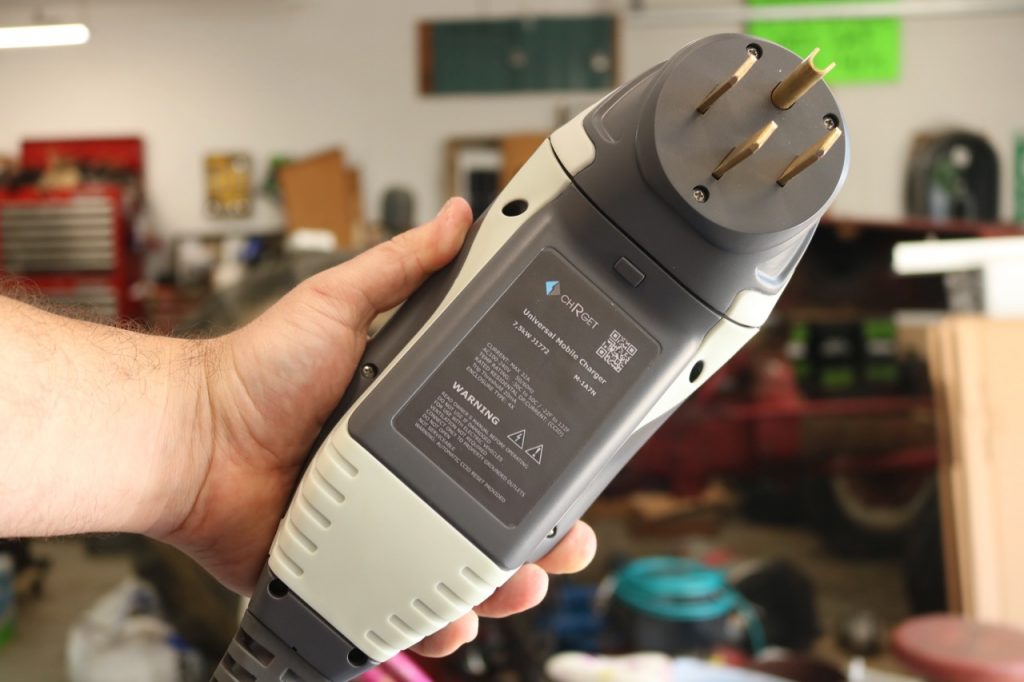 The CHRGET Universal Mobile Charger is an EVSE designed for use anywhere on the planet, and features plenty of "Smart" features. Right off the bat, it includes a nice display showing wall voltage, maximum current, and charging current. An analysis screen shows charging power and total energy use.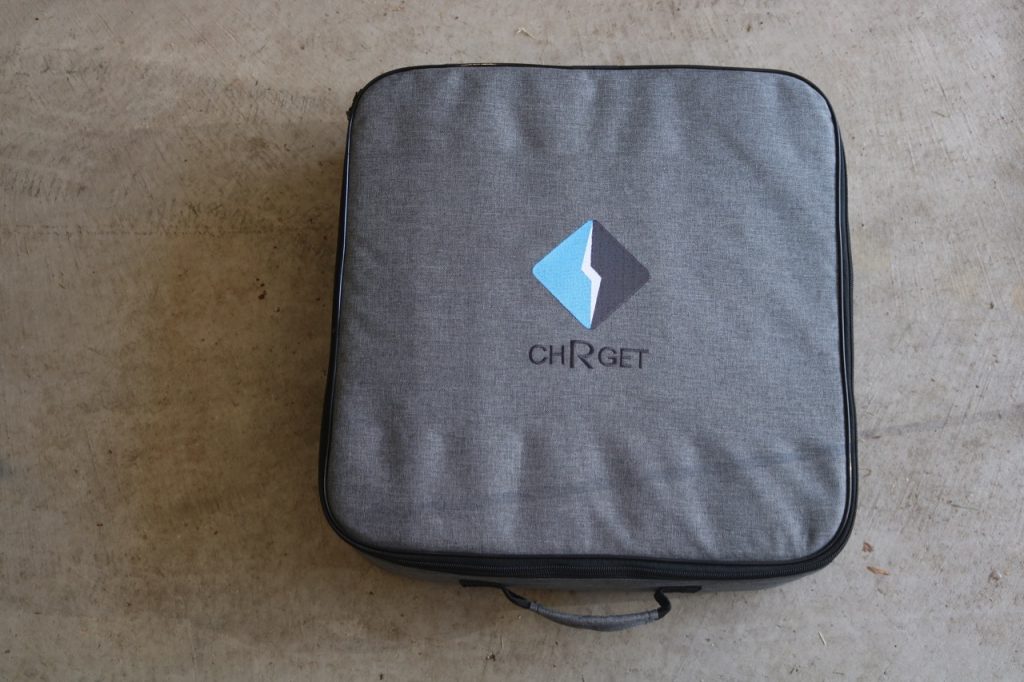 The CHRGET UMC came in a zippered, padded carrying case. The exterior looks very nice, with a gray cloth finish and company logo. Inside is the more typical artificial fiber over foam that similar cases are made from. The case does a nice job of holding the EVSE, keeping the cord out of the way, and storing spare adapters.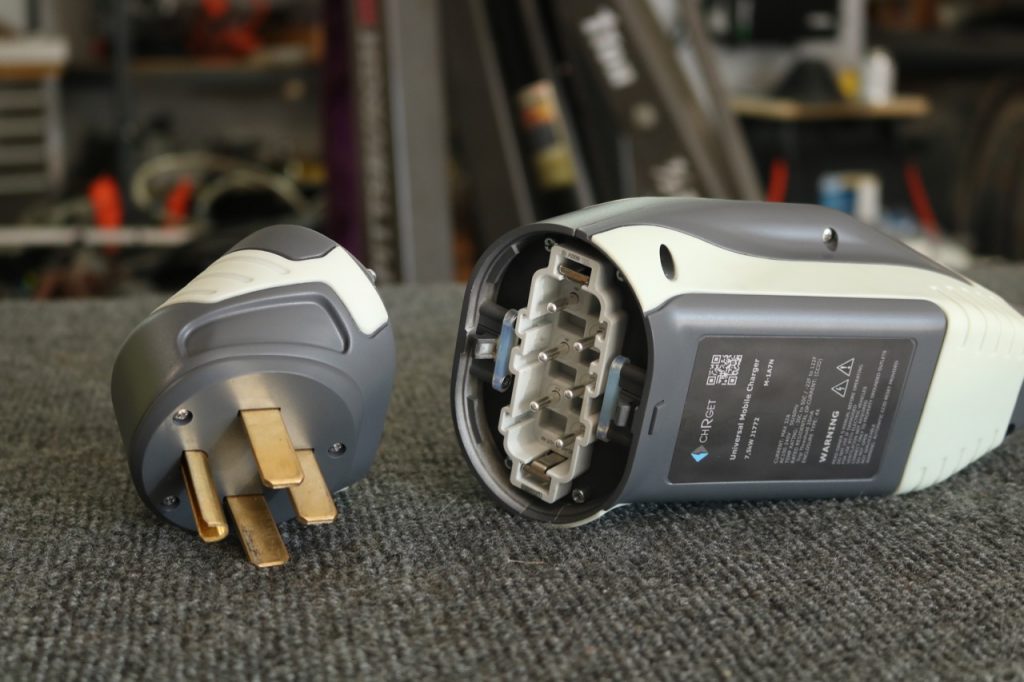 One of the main features of the CHRGET UMC is that it has interchangeable plugs. The demo unit I was sent included NEMA 14-50 and 14-30 connectors. I use a 14-50 receptacle in my garage for my day to day electric car charging. Pressing the pair of release buttons on the unit unlocks the adapter, and it is quickly and easily swapped out for another. This isn't an entirely new idea. I also have a Tesla EVSE which also has swappable end connectors. Switching the connector automatically signals to the unit to allow the appropriate amount of current to the car. Thirty-plus different power connectors will be available so that you can plug it in anywhere.
The exterior of the EVSE feels high quality. It's heavy plastic with a rubberized grip finish. The J1772 connector is similar good quality and has a metal hook mechanism to lock into the car. The back end of that is also metal and has a hole for a small lock.

The cable is 20 feet long.

CHRGET is offering several variations on this EVSE. This one was rated as 32A. There's also a 48A version and a 3 phase variant for Europe.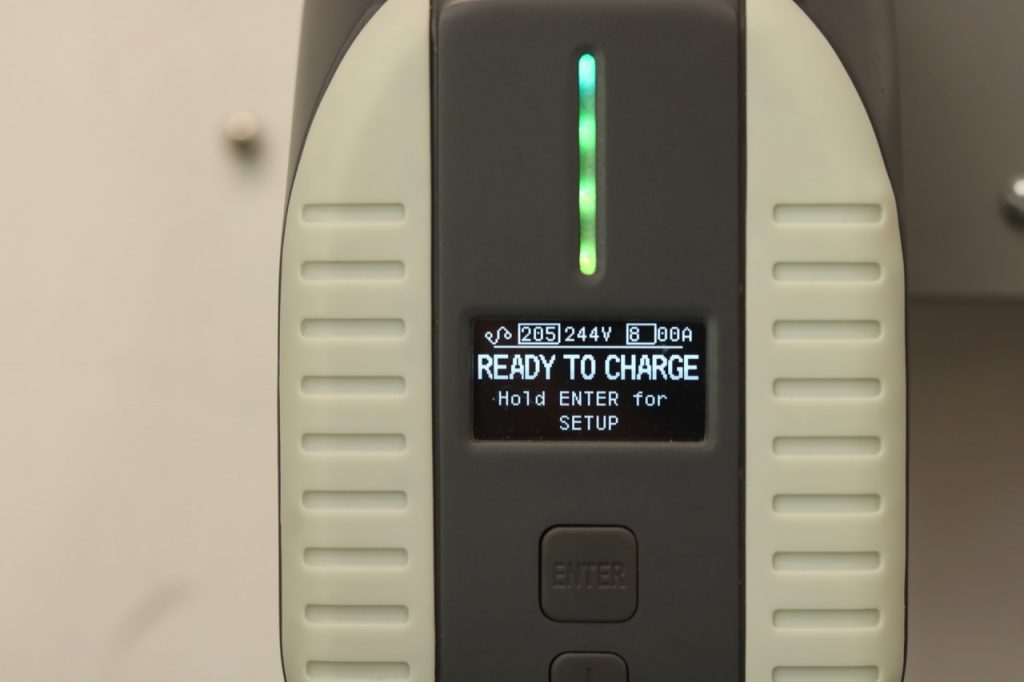 The unit is easy to use. Once I plugged it in, a logo graphic popped up and then a READY TO CHARGE screen appeared. There's also a row of RGB LEDS which indicate that the unit is ready, charging, or displaying an error.

The EVSE only has two buttons, both of which are weatherproof with a heavy rubber cover. The Enter button acts to go to the menu and enter selections. The other button changes selections, such as setting the maximum available current.
One of the other great features of this unit is how it works with the App. Unfortunately, at time of review, the App was NOT available. Using the app allows for some advanced features, including setting a security PIN and alarm, advanced timer features, or setting up the EVSE for splitting power with another unit.
Power sharing is a feature that allows multiple units to occupy a single circuit or power source which may be limited to less than what two or more vehicles might use while charging. I've seen this used at businesses to save on wiring runs to charging spaces. It's also great for a detached garage which may have less available power. While I've seen this feature on other brand EVSEs, this is the first that I know of where it would be done WIRELESSLY. That frees up the unit from having to be permanently mounted to be able to perform power-sharing.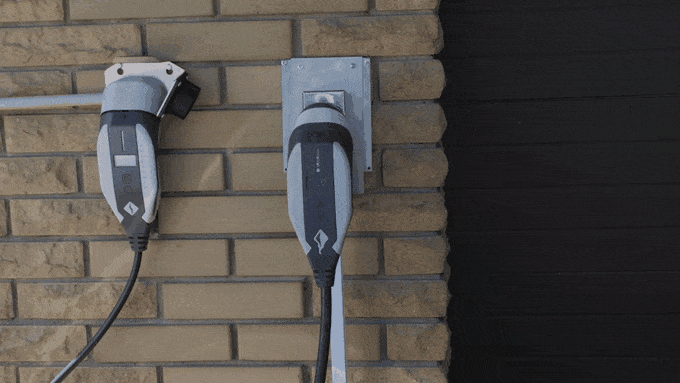 The CHRGET UMC features Bluetooth, Wi-Fi, and Amazon Alexa voice control. But without the app, I was not able to test any of these. Please see CHRGET's web page or kickstarter for more details.

The EVSE also uses Geo-Location. The feature automates settings based on where you are. Presumably, it will automatically set the correct maximum current, based on whether you are at work or at home.

Overall, the unit looks good. It's probably best for the person who travels a lot or likes knowing plenty of information about how their car is charging. The swappable power connections would be great for a quick change for charging at work vs home, or visiting a campground or relatives.

I look forward to having the App to test the features only available through that software. I plan to shoot some more video when I do get the App, although that will probably be AFTER the Kickstarter.

As always, keep in mind that there is risk in supporting a Kickstarter Campaign. (I'm looking at YOU, Electric Motor Werks! Where's my JuicePlug!?) I will say that the item in front of me looks very finished. It was in no way a "prototype", but rather a pre-production, well produced product.
Until next time, Stay Charged Up!
-Ben Nelson
300MPG.org