Winter hit hard and fast here in south-eastern Wisconsin, with 6 inches of snow in October and it's 6℉ as I write this in early November. So, that means it's time to button down our winter projects!
CRASHED MITSUBISHI IMIEV AUCTION
In the last video update, I mentioned a crashed Mitsubishi iMiEV that was up for auction. This would have been a great car, as it was in "runs and drives" condition, had CHAdeMO fast charge, and was located only 30 miles from my house!
Unfortunately, I didn't get it. I was all lined up with a broker, had my deposit in, and the auction started. There are some very strange rules of the specifics when it comes to buying at auto auctions. Because the car was located in the same state as I was, I would have needed to do some EXTRA work with the broker, beyond the typical. Of course, I didn't know that ahead of time, and the broker's info didn't make that clear. Oh well, Que sera, sera!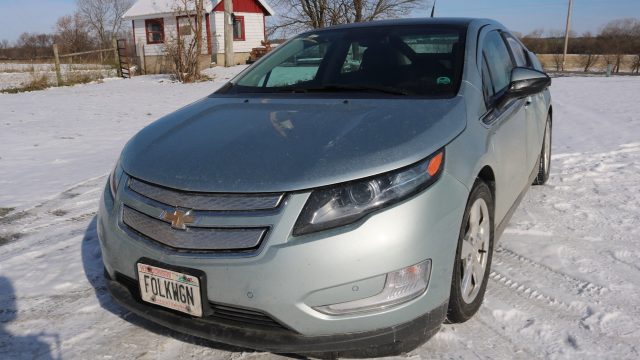 CRASHED CHEVY VOLT
Almost immediately after I missed the iMiEV auction, I was contacted by my friend, Cris. He hit a deer with his Chevy Volt. (Or rather, the deer hit him! The damage was on the SIDE of the car!)
After talking with his insurance company, the decided to total out the car. The main damage is to both driver side doors. There's also a dent in the rear fender, a small dent to the door frame above the rear door, and a dent in the roof. Total cost to repair all that would have been more than the value of the car. I've been told that doors cost $1700 each! The ding in the roof is apparently a pretty expensive place to fix as well.
Now here's where it gets interesting. The ding in the roof WASN'T from the deer. The owner told me the car already had that ding in it when he got it! It just HAPPENS to be in the same area as where the deer hit!

His mother also drove a Chevy Volt. Last year, she got in an accident, completely crumpling the front of the car. I ended up purchasing the salvage of that car. I figured I could use the battery and other parts for some of my projects. I never actually got to moving that car over to my place, so it's still sitting in their barn. The car is the same make, model, year, and EVEN COLOR as the one that just took deer damage!
That means I should be able to buy my friend's car at the insurance buyout value and just swap two door into it which I already own! I wouldn't even have to repaint them! Of course, there will still be a few dings in this car. It won't look brand new, but will be a great upgrade over our 2004 Prius!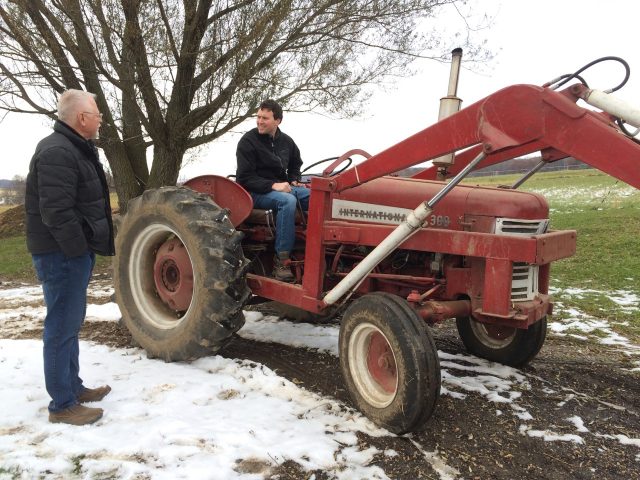 TRACTOR FOR ELECTRIC CONVERSION
The day after going to check out Cris's Volt, I got a message from Brian, who is having me convert a tractor to electric for him. The first step is to actually GET a tractor. Between the two of us, we've looked at several, both in person and through on-line ads.
Brian and I met up to look at an International Harvester 300. It's a mid-50s full-size farm tractor.
One of the big features Brian was looking for was a front end loader. This tractor had a nice one, well integrated into the design. The engine and hydraulics were all in good shape. We got to test out the tractor, driving it around and using the loader. Overall, it ticked all the boxes in what we were looking for.
Another attractive part of the deal is that the seller has a nice large trailer which he can use to deliver the tractor. With it weighing up to 6,000 lbs, it's nice for us not to have to dig up a truck and trailer rated for that!

The tractor gets delivered to my place tomorrow, which means I really need to get going with cleaning my garage! I'm a little concerned about how much space this is going to take up. Not only the tractor large, but I'll have to remove the loader as the very first task. I don't think I want to just leave that outside for the winter, and it will take up an entire parking space all by itself inside!

Oh well, I'll figure it out.
Until next time, stay charged up!
-Ben Nelson
300MPG.org