Today, I stopped over at a friend's farm property to check out a couple of tractors. I've recently been researching which tractors might make good candidates for an electric conversion, but what I really needed to do is just go out and see some.

A family friend, Linda, had two old tractors on her property. They are Ford 8Ns. The 8N was probably the most common tractor EVER in America. They were built by Ford Motor Company from 1947 to 1953. (WIKIPEDIA)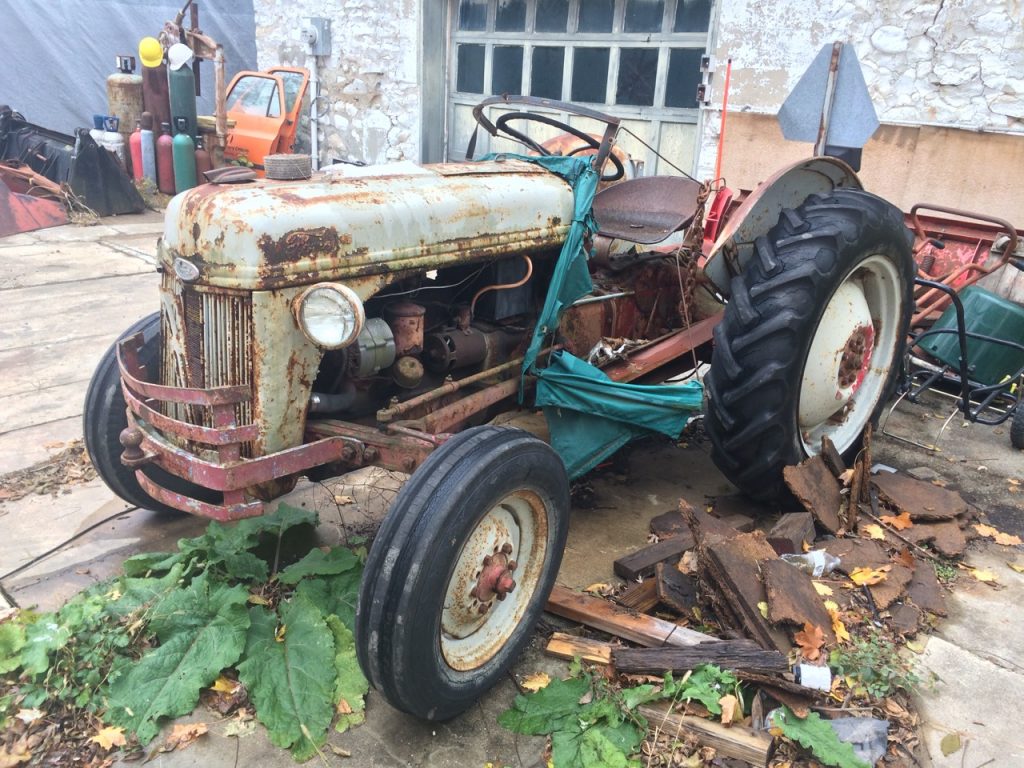 Being such an old tractor, they should potentially make a good candidate for electric conversion, but will they?
One shortcoming of quite a few tractors is the fact that they do NOT have a FRAME! It's very common that a tractor is essentially an engine, transmission, and differential. A seat and steering wheel are bolted on top, and the front end – wheels, steering, and all – are literally bolted to the ENGINE.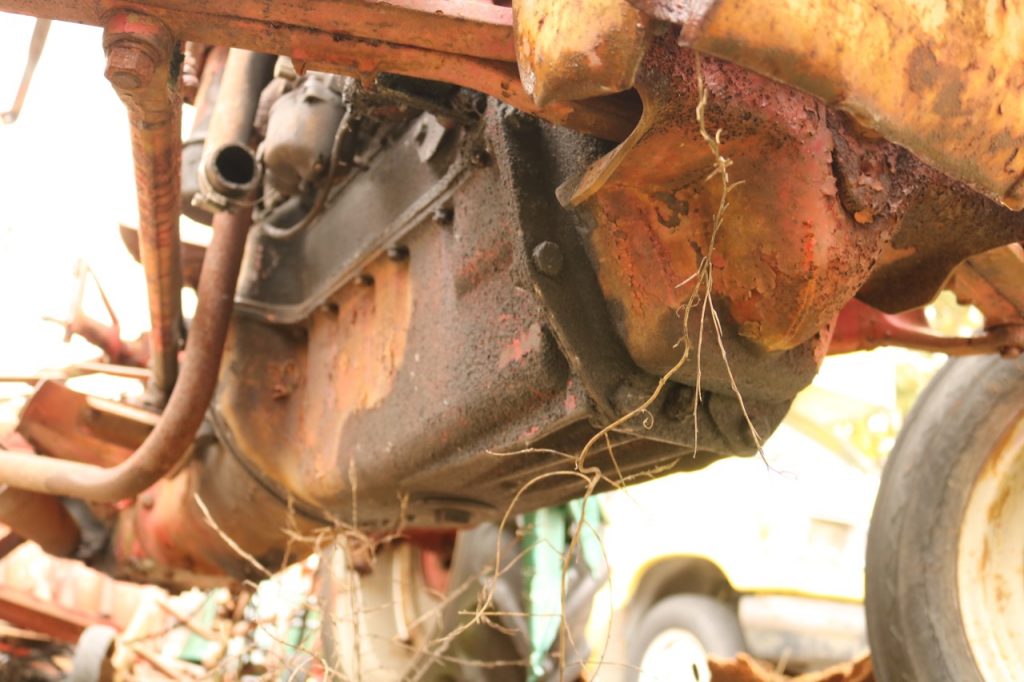 If a person wanted to swap out the engine for an electric motor, how would they go about it? The front end still needs to connect somehow! Likely the easiest way to go would be to build some sort of sub-frame – possibly tied in with a battery rack. Still, it's rather a bit more complicated than pulling an engine in something like a pickup truck.
When I looked at the second tractor, I wasn't even sure it was an 8N. There's really not much for identifying markings on it. It took me a moment to realize there was something different about this tractor. The color and shape of the hood was right. But was it longer? The hood was up higher too.
Then I realized it had a 6 cylinder engine instead of a 4! Not only that, but it had FRAME RAILS running under the engine!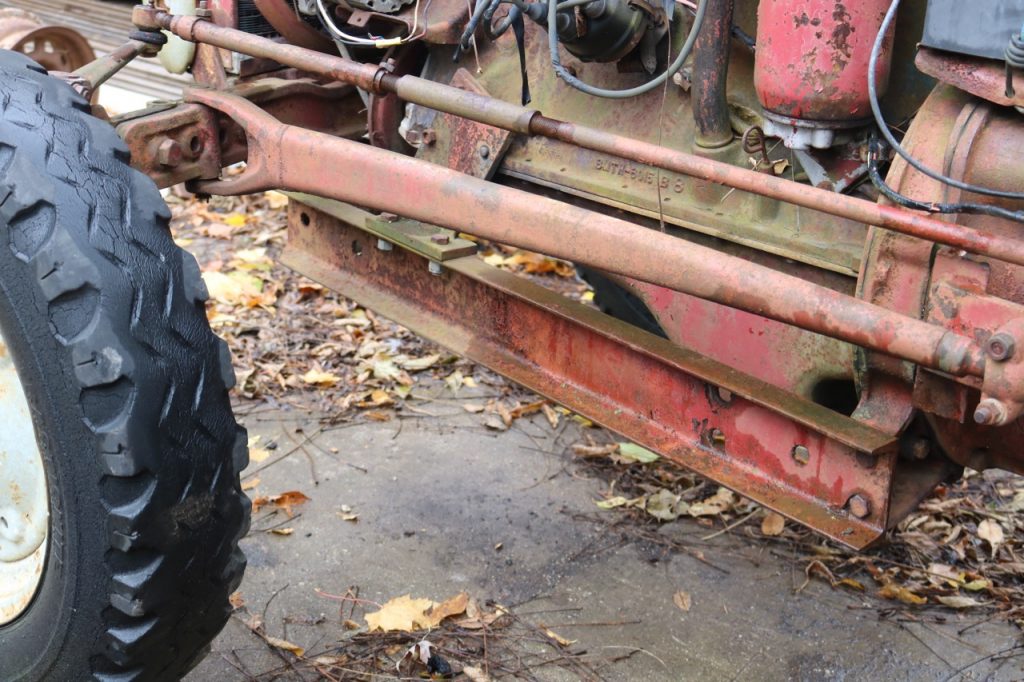 Closely examining the machine, it looked as though this was some sort of upgrade! The owner had removed the 4 cylinder, added frame rails and a few other modifications, and installed a 6 cylinder engine! It was hard to tell if this was home-made or some sort of Ford upgrade.

One thing is for sure. If I wanted to swap out the engine for an electric motor, it sure would be easier with those frame rails in place!
After I got back home, I did a little research on the internet and found that there was indeed an aftermarket kit available for these Ford 8N tractors! Designed and built by the "Funk Brothers", (which sounds like an awesome Nintendo game…) the "Funk Conversion Kit" upgraded the 8N to a 6 cylinder industrial motor, greatly increasing the horsepower of the tractor. The early kits added frame rails, extended the steering, and bumped up the height of the hood. The later kits had a cast oil pan, which allowed the front end to be bolted straight to the engine, just the same as they were with the 4 cylinders. (See Hemmings.com article.)
I later talked on the phone with the owner. She confirmed that this was indeed a "Funk Conversion". Her late husband was a HUGE tractor fan and got this tractor from an original owner who installed this himself. That would explain the "home-made" look of some of the welds. It was done at the farm, rather than on a new tractor at a dealership.
Unfortunately, these tractors have been sitting outdoors for a long time and are neither pretty, nor in good working condition. It seems unlikely that either of these will be converted to electric, but I LOVE learning about the history of technology, including these old tractors.
Until next time, stay charged up!
-Ben Nelson
300MPG.org
Ford 8N tractor.

What the!? This 8N has been modified!

6 cylinders in there, not the usual 4.

Frame rails of the "Funk Conversion" 6-cylinder Ford 8N tractor.

Underside of a standard 8N. Notice how the front end bolts straight to the engine.