Today, we headed out on a road trip to pick up the solar panels for my garage.
My brother, Wayne, and I hitched up my multipurpose trailer to the van and hit the road to go see Phil Manke at Practical Solar in Wautoma, Wisconsin. Phil runs a solar hot water installation business. He also has quite a few other interesting project. (Take a look at the video for a glance at his stainless-steel solar focusing dish!) I met Phil a while back at the MREA Energy Fair, and somewhat recently found out that he had acquired a supply of new Helios brand solar panels. I was especially interested in these panels because they were manufactured in Milwaukee, Wisconsin, about 30 miles from my house.
Before heading out, I made sure the trailer was set up for the solar panels. I measured the trailer to make sure that two stacks of the panels would fit, and that the trailers was solid and level at those points. This is a modified trailer. (In it's first life, I think it was a pop-up camping trailer.) I did need to make sure that the solar panels wouldn't lay out right over the top of the wheels. If there was too much weight, the wheels could actually rub on the panels! To prevent that, I screwed 2×4's down to the decking to space the panels up.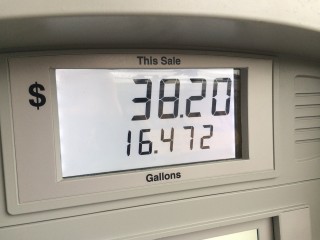 The drive from Oconomowoc to Wautoma was pretty uneventful. We first stopped for gas and coffee, as I borrowed the vehicle with very little gas in the tank. Filling the van, I realized that I just spent in one day what I don't usually pay for gasoline in a month! Driving an electric car and occasionally a Prius, it's actually gotten pretty hard for me to imagine how much money people can spend on gasoline every month!
We took the side roads on up, with an estimation of about 1 hour 45 minutes to get there. We stopped at Culver's for lunch before heading to the outskirts of town to meet up with Phil.
Phil's place is impressive in the kind of way that I like. Imagine an "Energy Farm". Besides several large arrays of photovoltaic panels, there were also multiple solar hot-water setups, piles of sorted recyclable project materials, and other interesting eco-experiments, including a polished parabolic reflector mounted on a trailer and a wind turbine built from 55-gallon drums cut in half. Phil has the air of an Farmer/Inventor about him. He preaches about energy independence and common sense. A Patriot in overalls.
We pulled past the pole-barn warehouse to turn around the van and trailer. Then we positioned the trailer for easy transfer of the photovoltaic panels. Phil already had a number of them in his pickup, parked just inside the warehouse.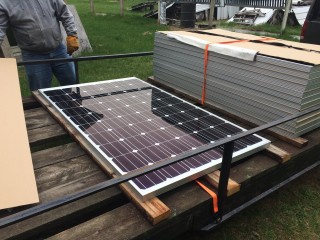 Loading the panels was very straight-forward. Just make sure they are stacked nice, and have the layers of cardboard between them to keep the frames from getting scratched up. Beyond that, it was just a matter of using plenty of ratchet straps to hold the load in place on the trailer.
It took about an hour to load all the panels, lash them down, pay for them, say our good-bye's and be on the road again.
We took the same side-roads back home. Besides being able to drive a little slower than the interstate (thus improving fuel economy), it also meant that I felt safe if I needed to pull to the side of the road. We stopped in the first small town on the way and checked the straps. One had loosened a little, and the rear stack of panels had shifted just a bit. I put a spacer between the two stacks of solar panels (a shorty two-step step-ladder) and tightened the straps back down. The load felt solid, and we continued home. Other than a bathroom break, we didn't make any more stops. The day was rainy and the rest of the trip was completely uneventful. Which is a good thing. I like when things go wrong, as they make the best stories, but in this case, I was happy just to get home with no further adventure.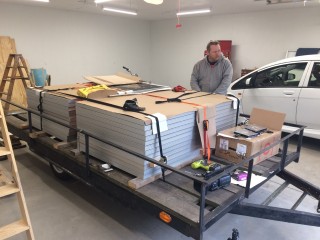 In my driveway, I backed up the truck and we rolled the trailer right into the garage. There was really no reason to unload the panels from the trailer. If they need to be moved to make space for some additional building supplies (the garage isn't even sided yet!) we can still move the trailer around.
Since I now have the panels themselves, I have NEARLY everything I need to start installing my photovoltaic system. I have the racking, the micro-inverters, the panels, the disconnect, I even have the Envoy communications gateway for the Enphase system. The only thing I'm still waiting on is the cables that the micro-inverters plug in to and the S-5! brand clamps that will connect to my metal roof.
In the mean time, I've just been busy (work, a college class with upcoming final, a Kickstarter campaign, a wind turbine workshop, etc.)
I look forward to actually getting everything together!
These solar panels are Helios model 6T-260. They are typical 60-cell solar panels rated at 260 watts. They cost me $150 each. That works out to 58 cents per watt, if you want to look at it that way. The faceplate power of these panels in total is 6,240 watts. Of course, real-world conditions, inefficiencies, etc bring that down a bit. At this time, I was able to find a good deal on some German-made solar panels for not too much more money, but those also have to be shipped half-way around the world. I was much more interested in getting solar panels make near me. Higher wattage solar panels are also available right now, but can cost considerably more per watt. I decided it was in my best interest to stay on budget!
Until next time, stay charged up!
-Ben
PS: Too bad this was too far away for me to tow with the iMiEV! If I had a Tesla Model X, I could have driven there and back while towing on a single charge! Oh well, I'll make up for the gas when I start producing electricity!