Time for a Garage Update!
Ross the Electrician has been over a few times lately, and got most of the rough wiring done. The downstairs is wired for plenty of wall outlets, two electric car chargers, an electric boiler, and plenty of switched outlets in the ceiling for the LED shop-lights. There will also be two outside electric outlets, one each off opposite corners. Upstairs will also have 240V power for baseboard heaters. A line of can lights runs straight down the middle of the upstairs. Those will be on a three-way switch, so they can be flipped from upstairs or down.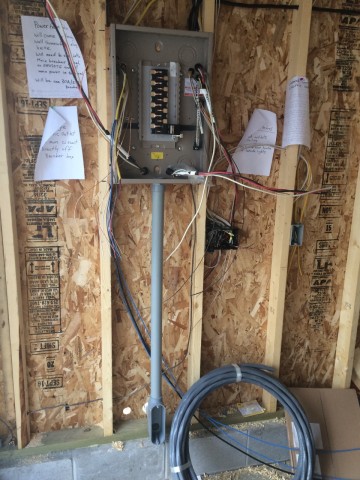 The main breaker box is in, but the new extra-heavy-duty cable going to the house isn't yet. I dug a trench the last day of above-freezing weather before winter hit. We'll need to run the heavy cable from the garage to the house. In a separate conduit, we are going to have an RF Cable and two Cat5 networking cables. I figure that way I can have television, internet, and telephone/telecom in the garage. The best part of those LAN cables is that they have multiple small wires inside, which could be dedicated to communications, sensors, or all sorts of other things!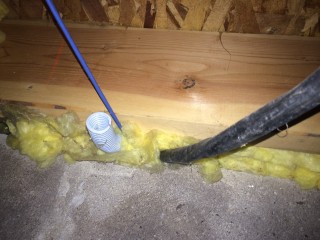 I went down into my crawl-space today to see if there was anything I'd need to move out of the way or otherwise take care of before asking the electrician to go down there. I used the mechanics' creeper (which is left in the crawl-space for such a purpose) to scoot on my back to the north west corner of my house, where the existing garage electrical runs up into the main electric box. One thing I did see is that there already was a "Smurf Tube", apparently put in on purpose for running future wires. However, it's only one-inch tubing. The new garage main cable is going to be thicker than that. Perhaps the tubing itself can be used to fish up the new cable?
On the solar front, I think I'm starting to feel a bit more confident.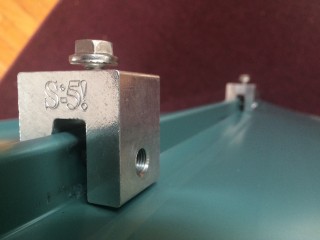 I ordered a pair of s-5! clamps and tested them out on a sample of my metal roofing. These clamps pinch right onto the seam, without going through it. So, they hold fast to a metal roof, but without requiring penetrations, flashings, or sealants. I went so far as to set up my roofing sample on end and literally stand on one foot on the S-5! Mini clamp. It didn't budge! Dang powerful for a small block of aluminum and a set screw!
I was working in Madison yesterday. When I was done, I ended up driving right past Full Spectrum Solar. I stopped in to see if I might be able to arrange for some sort of short consultation. Project Engineer, Mike, said he had a few minutes before he had to run off to an appointment, and was happy to casually chat with me for a few minutes, answering some questions I had. Thanks, Mike!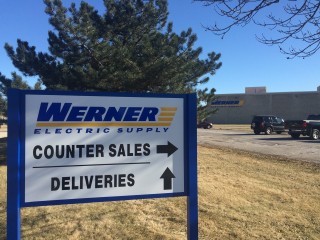 I'm planning on using Iron Ridge brand racking for my solar. When I checked on their web site, I found a distributor only 17 miles away. I called up Werner Electric Supply and was able to order two pieces of racking, along with a few other small pieces of hardware. Today, I borrowed a vehicle with a good ladder rack so that I could carry home the fourteen-foot-long aluminum extrusions. Werner is a neat place to visit – all the electrical bits and pieces you could ever want, and the counter sales clerk was super friendly and helpful.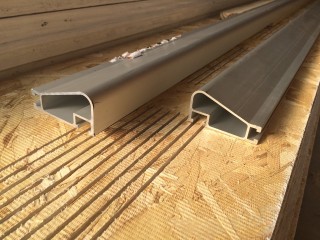 In real life, the rack pieces feel both more narrow and LONGER than I imagined them. The main reason why I purchased these was just to get a sense of the materials – to make sure I was getting the right components and that they would all work correctly together. It's one thing to see a photo on a web page, it's another to be lifting it onto a 7:12 metal roof and screwing it down. It's the same reason you will often see me rough assembling a project in the middle of a home improvement store aisle. I want to make sure I'm getting the right parts and that they work together, BEFORE investing lots of time and money and STILL not having it right!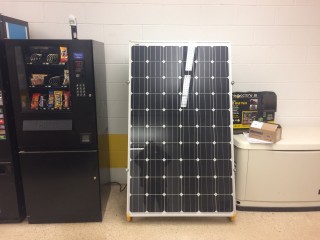 For the solar panels themselves, I've been looking at either Solar World 270w monos OR Helios 260 watt. Solar World is a good brand name and can be easily mail-ordered. (Shown in the photo is a Solar World 255 watt at Werner Electric.) More interesting though is that I found a lead on purchasing Helios brand panels. What's exciting about that is they were MADE in MILWAUKEE, WISCONSIN. Literally the closest solar manufacturer, only some 30 miles away from me! The downside….. they're no longer in business. That means no warranty. I'm not too concerned about that, as there's almost nothing to go wrong with a solar panel. (And YES, I'll be getting a nice 25 year warranty on my micro-inverters, which haven't been around long enough to prove themselves to the test of time.)
I'll be able to get a bit of a discount on the Helios panels. Also, I'll be able to go pick them up myself, saving freight charges I'd otherwise pay for mail-ordered panels.
I'm hoping to go visit the Helios dealer tomorrow and pick up one or two panels. Solar panels are NOT small. By actually having one of the panels, I can start planing around with the racking, logistics, and other issues. I did measure the back of the Prius (too far away for the iMiEV) to make sure a solar panel will fit. It will: exactly. At least, I sure hope it does when I go to pick it up!
Until next time, stay charged up!
-Ben