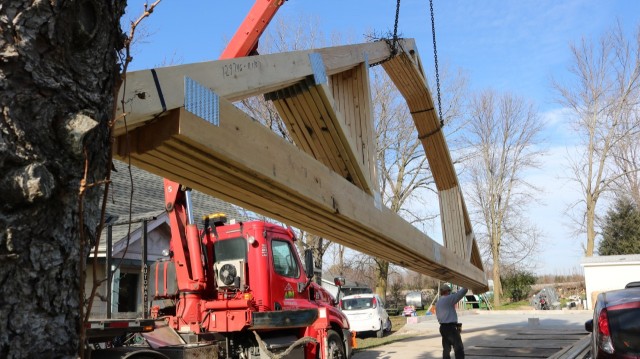 While I wasn't expecting it yet, the engineered trusses that will make up the attic and roof showed up today!
These trusses are HUGE! They will run north and south. The garage is 29 feet in that dimension, plus a one foot roof overhang on either side. That makes these 31 feet long each.
I also wasn't expecting them to be as heavy-duty as they are. The bottom chord is a 2×10! It certainly makes sense, as these have to structurally support not just the second story, but also the roof and the solar panels. The other part of it is the engineering. I wanted the upstairs to be high enough for me to walk upright. We needed some engineering changes to get the 6-foot minimum upstairs while still meeting the height maximum imposed on us by local governmental regulation. That meant using some sturdier materials to get the needed strength while still leaving the middle of the trusses open.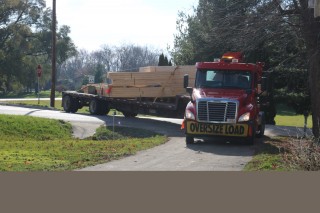 The truck carrying the materials is HUGE. Since I'm on a corner property, it makes it that much more difficult to get big trucks in and out, but the driver did a great job. There were four stacks of materials on his truck, with mine being the middle two stacks. After the driver removed the first stack with his crane, he off-loaded the first of my bundles of trusses. There was just enough room between the truck and the pine tree to swing the boom and lower the trusses onto some scrap plywood that was already in position.
Once all the materials were unloaded, I helped check for traffic as the driver did a pretty amazing job of backing out my driveway, across the intersection, reversing direction, and taking off for his next delivery.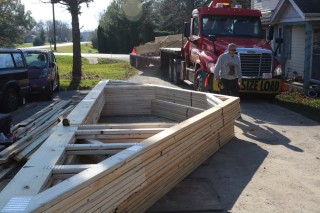 I looked over the trusses. The height of the upstair ceiling will be about 6'6″. Perfect for me as a 6′ tall guy. That space is just shy of 4 feet wide. At the floor level of the upstairs, it will be open for 14 feet, although only just under 4 feet tall at the knee-walls. That will provide plenty of lower storage space. It's also about right for sitting position if I had a desk up there. Officially, the upstairs is considered storage space, and will be accessible by a drop-down stairs, similar to what many people have in their attic. I do plan to finish off the upstairs to make it usable for more than just storage. Will it actually work out well for, say, a home office space or blogging and video studio? I'm not exactly sure. Sometimes you really don't know how usable something is until you use it.
No matter what, I will have SIGNIFICANTLY more workshop and storage space with the new garage, and look forward to continuing the build.
See ya next time,
-Ben