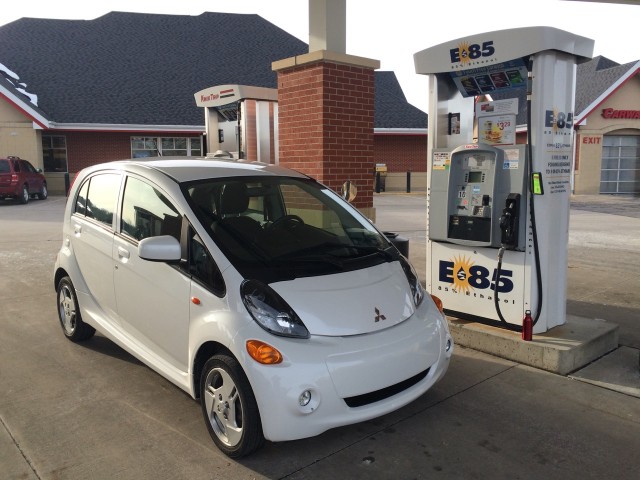 I just got my latest electric bill in the mail today. One of my favorite features of the bill is that it shows my electric use this year versus the same month last year. Since I've had my electric Mitsubishi iMiEV for LESS than a year, and we haven't changed our electric use otherwise, it's a pretty good indicator of our use of electricity for the car.
The bill for this past month was for 560 kWh of energy use. Same month last year was 323 kWh. The difference is 237 kWh, which should roughly be the amount of energy used in the car. (And yes, my power use this month last year was less than HALF the average household in my area and almost a THIRD of the national U.S. Average.)
I've found that "Four Miles per Kilo-Watt-Hour" tends to be a fair rule of thumb for many electric cars. Using that, 237 kWh of extra electricity should have netted me around 948 miles of travel. (237 x 4 = 948)
I also track mileage when I use the car for business, and I happened to have entries for the first and last days of the month – 36,119 miles and 37,023 miles. So, I put on 904 miles in the month. That's within 5% of my estimate of 948 miles, so not bad for a rough guess!
Now, let's imagine that instead of an electric car, I was driving a NEW gasoline car at the national average of 25 MPG. To go the same 904 miles, I would use 36.16 gallons of gas. Which really isn't bad considering how INEXPENSIVE gas is right now. At my local gas station yesterday, regular unleaded was $2.099. So, that 36.16 gallons would have cost me $75.90.
But instead of $75.90 at the gas station, I spent $30.81 on my electric bill. That means I saved $45.09 this past month by by electricity instead of gasoline. Ignoring the fact that all my electricity comes from renewable sources (and that's nearly impossible to do with a gas vehicle,) my purely ECONOMIC gain comes to $45.09.
If that was my average every month all year, I'd save $541.08 annually.
Since I paid $7,000 for the car, it would take 12.94 years for the car to pay for itself!
That sounds like a long time, BUT, here's the thing: Most cars NEVER pay for themselves! We buy cars not as a way to save money, but as transportation. The next time somebody asks me what my "Return on Investment" is on the car, I'll ask them what the ROI on their Mustang/Corvette/Suburban/BMW is.
Again, this is ONLY the MOST SIMPLE way of viewing cost savings on the car. In this example, we are COMPLETELY IGNORING:
There are no oil changes to pay for (4 times per year)
I will never have to replace a muffler or exhaust system (or do a whole lot of other maintenance)
Gas is really cheap right now
Figuring in the savings on maintenance, driving more miles per year, or gas prices going up all make the car pay for itself SIGNIFICANTLY FASTER.
In the real world, I'm guessing this car will actually pay for itself in about 5 years. Since it was already a 3 year old car when I got it, that means I'll have an 8 year old car, that has completely paid for itself. The average car in the U.S. is now 11 years old. I'll have a newer than average car, completely paid off (I didn't take out a loan on it in the first place!), and having paid for itself, while still under it's 100,000 mile warranty.
Of course, I won't know the real "pay-off" date until that time in the future, as that will all be based on actual miles driven and  actual gasoline prices.
But let's do an imaginary scenario. Let's say that you drove the average number of miles per year in the U.S., and you are driving an electric car in my area. How much would you really save if gas prices went up? Let's say to 2008 prices. The average miles driven in my age and gender bracket is 18,858 miles. (Wow! That's a lot…) That, times 25 MPG is 754.32 gallons times $4.00/gallon is $3,017.28.
At that fuel cost, my electric car would totally pay for itself in two and a half years!
Moral of the story? The more you drive and the more expensive gasoline is, the more cost savings an electric car provides. But even if you don't drive all that much, and gas is cheap, you can still enjoy the instant torque, quiet ride, and renewable-sourced energy of your electric car!
'Til next time, stay charged up!
-Ben
PS: Just wait until I have my solar photo-voltaic system installed. The financial Return on Investment of solar combined with an electric car with BLOW YOUR MIND!
PPS: Another way to look at all this. How would you like to have an EXTRA $50-$100 going into your retirement or college-savings fund every month?