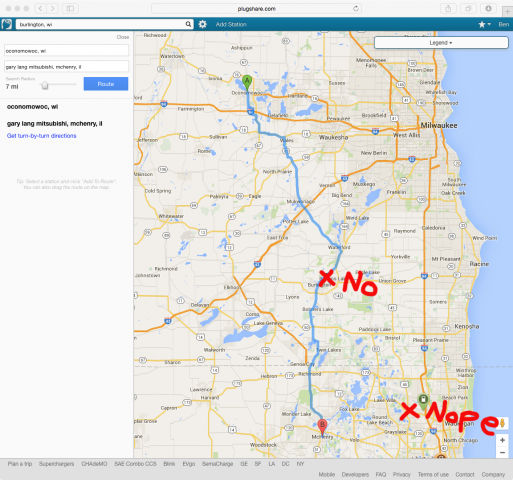 One thing that I knew was going to be a bit of a challenge about owning an iMiEV is that there is no certified Mitsubishi dealership near me. That's right, you can't get the car serviced just anywhere – only at OFFICIAL iMiEV certified Mitsubishi Dealerships.
The one closest to me is in McHenry, Illinois, which is about 70 miles away. The official EPA battery range of the iMiEV is 62 miles – and that's WITHOUT running the heater!
The original 3 year, 36,000 mile warranty is also running out soon on the car. When I bought it, I knew that there were several outstanding recalls. That's not really a big deal, lots of cars have assorted recalls all the time. You usually just get it taken care of for free the next time you are at the dealer service center. For example, this summer, we had a bolt in the Prius steering replaced when we had the air conditioner worked on. I wanted to get the car to the service center for the recall items and BEFORE the warranty runs out.
But it's pretty easy to take a Prius to a local Toyota dealer. For the iMiEV, I was back to making an inter-state road trip. I called Gary Lang Mitsubishi to confirm that they had my service reservation, all the parts needed for the work, and could make me a spare "chipped" key. Yep, yep, and yep.
I planned my route. I should be able to take a path similar to what I did after buying the car, only this time it wouldn't be at night, and I wouldn't be going as far. Two quick charges should make the trip easy.
I went on PlugShare to confirm the chargers. When I checked in comments on the Zeigler Nissan CHAdeMO charger (Gurnee, IL), somebody had said it wasn't working. Uh oh. At least that was a couple days ago. I called Zeigler, and had someone in the service department check for me. "Nope, not working, looks like we're waiting on a part."
Unfortunately, without that Quick Charger, the other Quick Charger doesn't do me any good either. Both were actually a little out of the direction that I needed to go. Without them, I could still make the trip, but I would have to go in as straight of a line as I could, and charge at a Level 2 station for as long as I need to in the middle.
Two stations are available, in separate towns, both at Technical College Campuses. I decided to go to the one in Burlington, Wisconsin, as that route should let me drive slower. I could stay off the interstate, and there should be enough passing zones that I wouldn't slow down traffic.
I also made sure to head out early, to avoid traffic as much as I could. I was up at 5 am and out the door by 5:30, headed down the road in the iMiEV, with the car preheated from the wall. The range-o-meter said that I had a theoretical range of up to 65 miles, as long as I drove like a grandma and never turned the heat on.
While it wasn't that cold out (high 30's F.) it's that type of dank, damp cold that chills to the bones. Learning from my first trip, I was this time wearing wool socks and long-underwear! It was also pitch black outside. Sunrise wouldn't be until after my charge stop.
I headed south and tried to keep my speed at about 45 miles per hour, and pretty much never got the power meter outside the "Eco" box on the gauge. It was pretty uneventful getting to Burlington, just watching the battery meter slowly drop down. Once I was at that town, it was only a few turns to find the Gateway Technical College Hero Center.
I pulled in to the lot and could see the glow of the display on the Chargepoint station. I backed in and parked the car, popping the charging port as I got out. There was even a nice plaque near the EVSE talking about the benefits of electric cars and how this charging station would out with students transportation needs. I swiped my Chargepoint card and…. nothing happened.
Huh?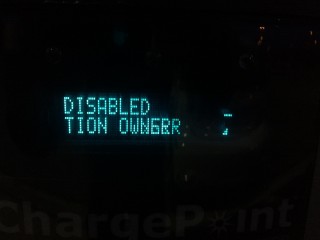 Normally, the display on the station says something along the lines of "LEVEL 2… READY" or the location or ID number of the station. Instead, this one said "DISABLED BY STATION OWNER". That can't be good. One nice thing about Chargepoint is that they do have 24/7 phone support for drivers. I called their 800 number to check on the charging station. There have been times when a card reader won't work, but tech support can remotely activate the charger for the user. Nope. I was informed that the EVSE wasn't communicating, so there was nothing they could do.
My Range Remaining indicator on the car said 26 miles, and I had at LEAST 30 to go.
One of the other reasons why I stopped in Burlington, instead of Elkhorn, is that there were two other Level 2 charging stations listed nearby. For whatever reason, if a station wasn't available, I would have a backup. So, I headed to the next nearest charger. PlugShare listed two car dealerships. The Ford dealer had a bad review and the GM store had no comments whatsoever. So, I headed to the GM dealer, about 2 miles away. Right in front was a charging station, and no sign saying "Volt Charging Only" or any other restriction. Best of all, the dealership wasn't even open yet. There was neither anyone to ask permission of, or to be denied by.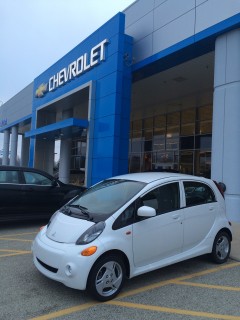 I parked and started charging. My range was now down to 24 miles (and it was 2 miles in the WRONG direction, so I just added 4 ADDITIONAL miles to my trip…) I set the stop watch on my phone. In testing in my garage, my car charges at a rate of about an additional 15 miles of range per hour of charging. An hour of charging SHOULD get me to the Mitsubishi dealer.
On the other side of the parking lot was a Menards store. I was glad to see that they opened early. I headed inside to warm-up and browse. There were some good sales on LED light bulbs, but none as good as I already got recently. Over in the automotive aisle, I found an inexpensive snow brush and ice-scraper. (I didn't have one for the iMiEV yet.) Even better, they had 12V automotive electric blankets for sale! For $17, I purchased a red plaid blanket with a cigarette lighter plug on it. The packaging didn't list the power, just the physical size.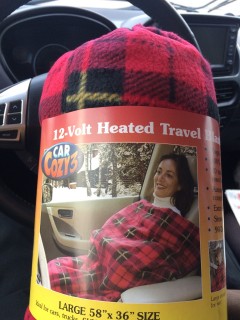 By the time I had used the bathroom, finished browsing, and purchased my snow-scraper and blanket, an hour of charge time was up. I tested the range limits of my iMiEV remote, setting it to preheat from the other side of the mega-parking lot. (It works if you hold it up over your head. No joke.)
Once back in the car, I opened up the electric blanket, to realize that it's only 40 watts! 40? That didn't sound like much to me. I unraveled the blanket the rest of the way and plugged it in. Then I unplugged the car (I was trying to get every drop of pre-heating I could,) and got back on the road.
My Range Remaining was now 41 miles. Having a 10 mile buffer sounded like a pretty good idea. As I drove down the road, the electric lap blanket quickly warmed up. LUXURIOUS! The low-power electric blanket put the heat right where I wanted it.
I continued south. There was one long stretch of 55 MPH road with pretty much zero passing. I was trying to not slow traffic too much, while also keeping my meter in the "Eco" zone. I was tailgated for a while by an orange Chevy Sonic hatchback. I tried to speed up a bit for him. After several miles, we got to town, where the road opened up to two lanes in each direction. He immediately flew past me. In town, there was a few turns and multiple traffic lights. By chance, the Sonic was going the same direction as I was. I ended up directly behind him at EVERY SINGLE traffic light. Here's the thing – if you race to a red traffic light, you don't get there any faster than the guy in the electric car driving like a grandma…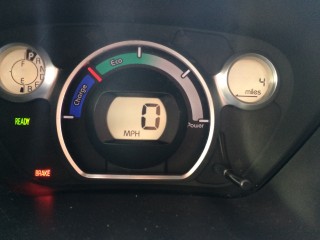 I finally made it down to Gary Lang Mitsubishi with 4 miles of battery power left. I pulled into the service department, which was fairly busy. After a few minutes of waiting, I could get checked in. I introduced myself, and said I was the guy with the iMiEV. My service consultant, Aaron, went down the list to make sure everything would be covered, including looking at the blower fan, which seems unreasonably loud. As this fan also runs to cool the battery pack during CHAdeMO quick charging, it's not just a matter of passenger comfort, but also of battery longevity!
It took a little while longer to do the paperwork, and I was also getting a "loaner" vehicle, so I needed to fish out proof of insurance, photocopy my drivers license, and have a bit more fooling around. While we were doing this, I was also told that my car would be in the shop at least through Monday. "We don't stock any parts for the iMiEV…" I was told. Which would be fine, except that that was one of the things I checked for on the phone the night before!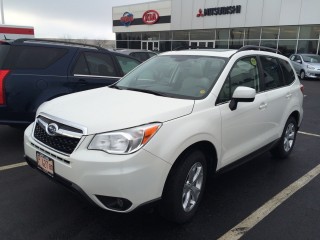 The upside was that they were giving me a free car rental for as long as I needed it. Not only that, but it was a brand new car. I was handed the keys to a 2016 Subaru Forester with the deluxe package and only 180 miles (total!) on it!
OK, well, if you insist I drive a brand-new fancy car for a few days, I guess I'll let you loan it to me. As soon as I hopped in the vehicle, my head bumped the ceiling! The irony! I fit perfect in a tiny iMiEV compact, but my head hits the roof in an SUV? Something must be wrong here. Sure enough, the powered seat is adjustable, including HEIGHT. It was cranked all the way up! I had to lower it. In fact, I had to lower it to the LOWEST position to be comfortable and have any head-room.
I was ready to head back home, and thought I would check out some other EV Charging Stations on the way, charting out for when I would make the return trip in the Mitsubishi electric car.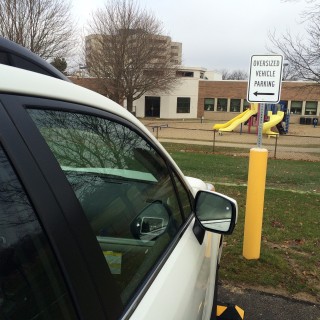 Only a block away was a charger at the McHenry County College Shah Center. That charger isn't just free, it also isn't a member of any network. No card to swipe, no association to join, just plug the cord in to your car! Over a few spaces was parking reserved for Oversized Vehicles. I couldn't resist parking there while I took a few photos of the charging station. Behind the station was a really nice array of ground-mounted photovoltaic solar panels. When charging here, you do it right from the sun!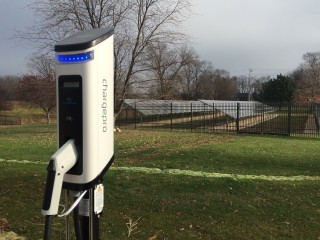 I headed north, this time towards Elkhorn, to check on the charging station at the Technical College campus there. On the way, I used the truck's cruise control. There was a mysterious button on the steering wheel, near the cruise control. I couldn't figure out what it was, so I did what anybody would do – I pressed it. It took me a minute to really figure it out, but the control is for an advanced cruise control. Sensors on the front of the car can see a car ahead. The cruise control takes you up to whatever speed you set it to OR to whatever speed the driver in front of you is doing. When you come up behind another car, the cruise control slows down to match speed. The button I was playing with SETS THE DISTANCE to the other vehicle – sort of a close, medium, or far. I set it to far, as I don't really trust robots to keep me from crashing. This adaptive cruise control really is neat. It goes as far as automatically braking the vehicle if traffic ahead suddenly slows down. It's easy to see how fully autonomous vehicles are in our not so distant future. (But I'm sure you already know all about the Tesla Autonomous Mode…)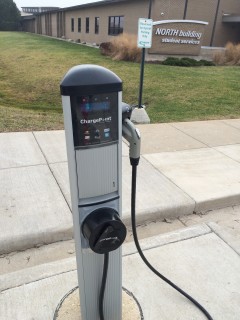 In Elkhorn, I stopped by the Level 2 charger there. I wanted to test it. Fortunately, I had TWO Chargepoint cards. (One is on the iMiEV keychain, back at the dealership, but the other was on my house keychain.) The Station worked great. No problems at all. It was one of the older ones that supports both Level 1 and Level 2 chargers. I still like those, because they allow electric motorcycles and electric bicycles to plug in, not just vehicles with J1772 connectors. This charging station should work great for the mid-point stop home when I drive the iMiEV back.
After that, it was just the rest of the ride home. Looks like I'll have the Subaru Forester for a few days. I just have to fill the tank with gasoline before I return it. Hopefully, that won't be too painful.
And how am I going to fit this thing in the garage?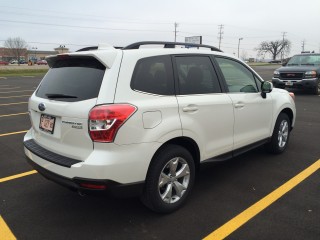 Frankly, I'm looking forward to getting my little car back!
'Til next time, stay charged up!
-Ben