Yesterday, I got to take the bike out for a ride and test out how it would work in more or less "Real-World" conditions, charging with ALL THREE CHARGERS.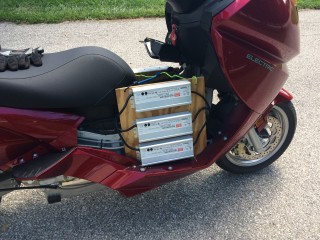 To start with, where do I put the second two chargers!? While I could make them fit in the trunk, it would be a tight squeeze, and I would need to pull them out while actually charging. Also, it's a pretty short DC connection from the chargers to the battery itself. So, I decided to mount them temporarily on either side of the battery pack. There was still enough room for my feet, and the chargers were easily held in place by the frame of the bike and some bungie cords.
Like my last range-testing joy-ride, I took the smaller country roads. These usually had lower speed limits, very little traffic, and would tend to have curves or other more fun terrain. In general, I took roads that had real names instead of Country Road P or State Hwy 67. Avoiding letters and numbers makes the trip a lot more fun.
This time, I headed west and south, mostly through Jefferson County, Wisconsin. My first destination was Johnson Creek. A department store there has two J1772 charging stations in their parking lot. There's plenty to do there, including visit the outlet mall, eat at a restaurant, and there's even a movie theater.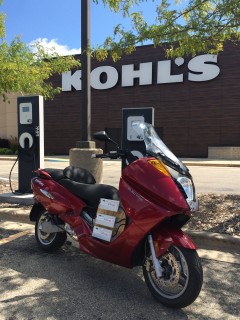 I pulled in and parked at the Kohl's store in the EV space. I don't have a BLINK brand card, but all stations are set up so that you can call an 800 number, use a credit card, or otherwise easily use the station without a membership. At least you SHOULD be able to! The directions showed how I could get a one time use code on my smartphone and then enter it in to the machine to authorize use. Except that it didn't work. I tried again. Nope. Next, I called the customer support phone number. After 20 minutes of being on hold, while standing in the hot sun in a parking lot, I finally got to talk to a live human being. I was informed that Blink's data network was down at the moment, so the machine couldn't communicate back to the mothership to authorize charging. I was given apologies, and told that they were sure that the network would be back up soon, but of course, couldn't give me any kind of an estimate as to when. I think it was safe to say that I would NOT be charging here.
Fortunately, I had only traveled 24.6 miles to get there, and I already had a backup charger. If I couldn't charge in Johnson Creek, I would keep going to the next nearest charger, in Lake Mills. That was only another ten miles away, but at this point, I was hot, frustrated, and hungry. Part of my plan was to eat lunch while charging the bike: which didn't happen.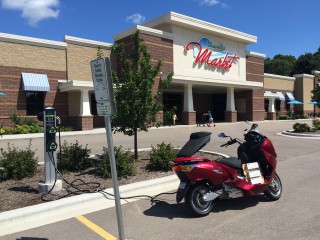 I continued west to Lake Milles, and after just a single mis-turn, found my way to the Lake Mills Market, a fairly new and good-sized grocery store. EV charging was clearly marked right in front with two spaces and a dual ChargePoint EVSE. Oddly, when I checked using the ChargePoint app, it showed one of the two ports as in use, but when I got there, both were available. I had run the power cords from all three chargers into the trunk of the cycle and had a short three-way adapter handy. I plugged the J1772 cord into the adapter that I made, plugged in all three chargers in to that, tapped my Chargepoint card to activate the EVSE, and flipped my adapter box switch to "ON". In a moment, I was putting 3500 watts into the cycle.
The only down-side was that the stiff three-way cord was just long and inflexible enough that I couldn't close the trunk lid down over all the cords and adapter box, so I had to leave my trunk open while unattended. Oh well, nothing too valuable in there, and I'm pretty sure the "Science Fair" look would keep people away.
Learning from my last trip, I also typed up a page giving a brief description of the vehicle and project, along with my cell phone number, in case there was any trouble or I needed to move it. I had that tucked right behind the windshield where anyone can read it. In fact, minutes before I got to the grocery store, I had pulled over to check my GPS. As I did, a couple in an Escalade pulled up next to me. "Is that really all electric? Do you sell those?" I very briefly explained that it was electric, no, I don't sell them, but I encourage people to drive electric, and if they wanted to know more, they could meet me at the grocery store.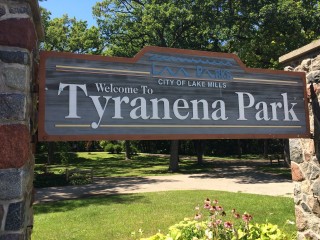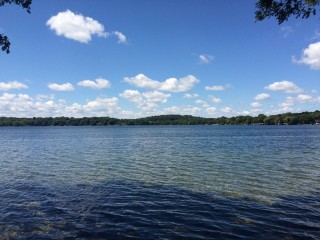 Once I was charging, I headed inside the store to find some lunch. By now, I was HUNGRY! I had lost nearly an hour from not being able to charge at the first charging station and the extra travel to get to the next one. I got a couple of hot turkey sandwiches (the deli special of the day,) a tray of California Rolls, a giant pickle, and a drink. When I last checked the map, I also noticed a park just west of the store, about one "country block". I walked over there, grocery bag in hand. Tyranea Park is wooded and has plenty of picnic tables in the shade, just off a parking area. Better yet, the property connects to Rock Lake. I walked to the lake and sat with my feet just above the water, eating my lunch in the shade of the over-reaching hardwoods. It was a quite a view.
One my way back to the Lake Mills Market, I realized that I still had the ChargePoint App on my phone open. While it normally shows a map of where charging stations are, while actually charging it gives you information on your charge, including a graph of current. It also gives an estimate of range gained, based on what vehicle you drive. The Vectrix wasn't listed, so I entered a Brammo Enertia, which seemed the closest match. Back at the bike once more, the charge wasn't up to 100%, but I had put in 19.9AH, while I had used 22.36 AH to make it from home to the charging station. 89% charged while just eating lunch doesn't sound bad.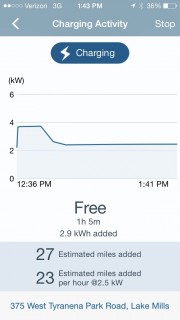 Checking the chargers and cabling, I didn't notice any issues with heat. On the chart of the charging session, it's easy to see where the stock charger dropped out. That's programmed to charge to a lower voltage, for everyday unattended charging. The other two chargers will go to a higher voltage, for a bulk fast fill. Looking at the chart, it probably makes sense to charge, if reasonable, after the battery voltage has gone down further. That way, the bike will be charging at 3500 watts instead of only 2000.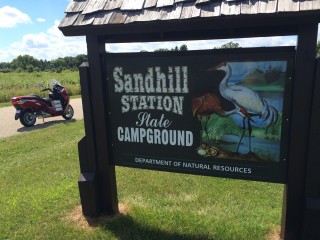 Next, I headed south, towards Fort Atkinson, where both a Ford Dealership and a bowling alley listed J1772 stations on Plug-Share. Because I had been traveling the side roads, I saw all sorts of interesting things. For example, I went right past "Jack's Auto Ranch", which is about what you expect it to be, a very rural automotive salvage yard. I also saw a large number of County and local parks. I tried stopping at as many as I could. They are convenient for using the bathrooms and getting drinking water. Of course, I also scoped them out for electricity. Sandhill Station State Campground was one such stop. I had never heard of the place. It was a self-registration campground on the corner of a lake and a scenic trail. Fishing and lake access were available. The group camp site had 4 circuits of 20A 120V power, which would let me run all three chargers at once, although I didn't stop to do so, as this wasn't that far from my grocery store charge.
Continuing south, I also checked out the Dorothy Carnes County Park. There was a very nice park shelter there, which also had multiple 20A 120V circuits close together. Another thing that I have noticed so far is that there are places (especially in parks) that are easily accessible by motorcycle, which would NOT be by car. Lots of times there's a small paved path, a sidewalk, or other access a cycle could make use of. Other times, there are posts or chains keeping out cars, but not cycles.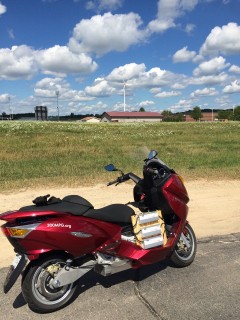 Finally, I actually headed in to Fort Atkinson. Perhaps best known for the Fireside Dinner Theater, the town seemed to thrive and has some very active local eco and community groups. At the high school there are two large scale wind turbines, and the roof is covered with solar.
In town, at a traffic light, I noticed that without even trying, I pull away from the cars quickly. I'm starting to take the smooth power and acceleration of the cycle for granted. I rode to Jones Park, essentially the baseball park for the local team, and saw that they also had plenty of electric outlets for festivals, including several 240V circuits, two of which are accessible right at the south parking lot.
Continuing on my journey, I hadn't decided whether to stop at the Ford Dealership or the bowling alley. Frankly, if I stopped at the alley, it might actually be fun to bowl a game or two. I hadn't done it in a while, but I can usually bowl a 150, and my high game was 183. I missed the turn for the alley, so I instead took the next turn, which brought me right in to the Havill-Spoerl Ford parking lot. I pulled in and instantly found the charger on the front of the building. I parked, asked for permission (quickly granted by friendly staff) and plugged in. Having all three chargers running through a splitter into the J1772 adapter makes charging the cycle about as easy as a LEAF or other commercially available electric – just plug in the big cord.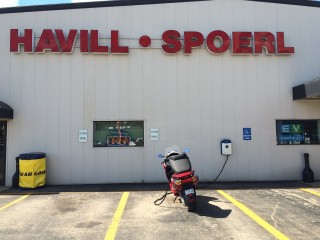 After I started charging, I headed inside and inquired about which plug-in vehicles were available. (I did notice the large "EV Certified" sign.) Also inside was a Cadillac PowerWheels. It was huge. I'm sure my little girl would love it, but it wasn't solar-powered the way her Barbie Jeep is.
At the lot, they had a C-Max (although not the plug-in version) and a pair of Ford Fusion Energi. I got to take one of each out for test drives. I really liked the way the Fusion Energi drove, zipping around in all electric mode. Smooth, quiet, what an EV should be. I didn't care for the sight-lines on the C-Max as much, but it has GREAT headroom and plenty of trunk-space. In my current situation, a used C-Max Energi might make a good next car for us. Certainly the current "poor resale value" of plug-in cars is a blessing for those of us interested in buying used cars anyways!
The guys at Havill Ford were very interested in my cycle project and I got to chit-chat with them a bit about it. The service manager drives a Focus Electric, and he told me how he had done some simple wiring changes to mod-up the look of the lights. Pretty neat stuff, using classic hot-rodding techniques on a modern car.
When I got to the dealership, my cell phone was almost dead. Leaving a map app open all the time running GPS drains the battery pretty steadily. I was also experimenting with a bicycling app, which traces the route you take. My battery was just high enough voltage that the stock charger wasn't running, so I plugged in my cell phone in the spare outlet on the three-way. WAIT! ISN'T THAT 240V FROM THE J1772!?!? Yes it is. Looking at the tiny iPhone power adapter, in print so small you need a magnifying glass, it actually DOES state that it can be run on anywhere from 100-240V. Charging the phone worked great!
I left with basically a full charge and headed home, with no further stops. There was one detour, which added a little to my time and distance, but I made it home, going 48.9 miles since the Ford dealership.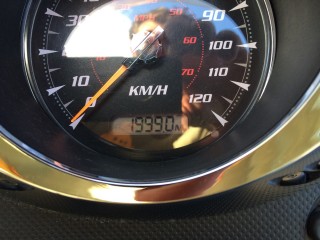 I also noticed that my odometer ended at exactly one mile short of 2000. That is significant because when I got the cycle, it had just over 1000 miles on it. That means that I have almost put on as many miles on the Vectrix since converting it to Leaf cells than when it ran on the original battery pack!
My overall ride was only 102 miles, which is LESS than the 113 I put on during my first range testing. In this case, the stops were a little more interesting, and the BLINK station incident slowed me down as well. Charging with all three chargers works GREAT running from J1772 EVSE.
Since my last ride, I still haven't installed a cup holder, although I did remember to bring a bottle of water to throw in the trunk. I also wore riding gloves the whole time, to keep sunburn off the back of my hands. It's hard to use a touch-screen with gloves though. I'd like to get a handle-bar or other type of mount for my smart-phone, so that I can leave the GPS open and available, without having to pull it out of my pocket, fumble with it, then put it away. I'll also need to rig up some power so the phone doesn't have to run on it's own power all the time.
I was also paying a little more attention to wasps nests under electric outlet covers. A laminated sign seemed to work well too. It looks nice. When I was at the Ford dealership, one of the guys there had a few questions for me on the "Loop the Lake" trip after reading my sign.
Public charging at J1772 and campgrounds has been working well. However, I still haven't reached any tremendous range on a single charge. Frankly, the furthest I've gone on a single continuous use was the 55.8 miles in the Craig Vetter Challenge. I'll have to do a test sometime soon to see how far I can go WITHOUT recharging.
Til then, stay charged up!
-Ben
As a proxy for a real road trip, I did learn a few things:
I should install a cup-holder
Watch out for bees inside electric covers
Try finding charging locations with interesting things (or food) within walking distance.
Get lunch first. If food isn't in easy walking distance, get a "to-go meal" first, then go to the charging station and plug in while eating.
Gloves or sunblock. If you don't wear gloves, wear sunblock. Sunburn on the back of the hands is unpleasant.
Opportunity charging works, just make sure to get plugged in right away before doing anything else.
Laminated Sign. I scribbled a little info on a scrap of paper, including my cell phone number, so that if somebody else needed the camp-site or if say, a park ranger, had any questions for me, they could get ahold of me and I could talk to them or move the cycle as needed. Knowing that I will want some information on the bike, I should probably make a nice laminated sign that explains what I am doing and why and have it look good!
In general campers are nice friendly folks, willing to help a person out. If they weren't social, they would be off hiding on some private land somewhere, instead of at a public camp-ground.