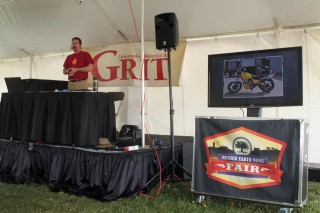 A big thank-you to everyone who came out to the Mother Earth News Fair in Asheville, North Carolina!
It was my first time being in the state and you made me feel very welcome. Turn-out for the Electric Vehicle presentations was great! If you are coming here after seeing one of my presentations, thanks for stopping by and having a look around! Electric Vehicle Instructional DVDs can be purchased through the links in the top bar. On the right are links to blog entries, and on the far right are project links.
Besides being a presenter at the Fair, I also had a good time going to see some other people's presentations AND checking out what was at the booths. Here's a few booths that stuck on in my mind, and I added links too in case you want to check them out!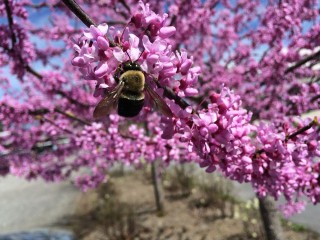 Giant bees
Ok, so not actually a booth, but the weather was great for the event. Spring comes sooner to North Carolina than it does to Wisconsin, so I was enjoying the sunshine, buds on the trees, and the beautiful flowers. I have no idea what this purple-flowered tree was, but the BEES LOVED IT! Also, I think the bumble-bees here are twice as big as the ones back home and they were VERY busy going about their work.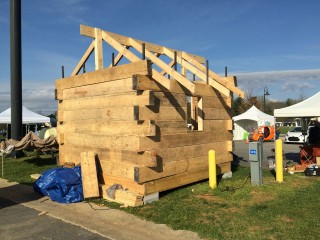 Thermal Boundary Log Wall System
Unfortunately, these guys don't have a web page, but I really think the time for their idea has come. When I first looked, I just saw a log-cabin – nice, but nothing earth-shattering. But when I saw "Thermal" as part of the name, I knew I'd have to get a closer look. The idea is pretty simple; take squared-off logs, hollow them out, and replace the interior with insulation. The cut-out material even gets reused for other parts of the cabin. When finished, it's a traditional log cabin that is anything but.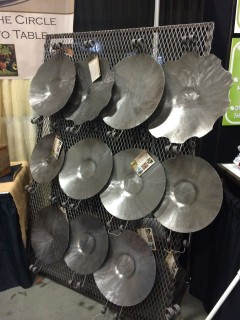 Lazarus Woks
http://www.lazaruswoks.com/home.html
My friend, Greg, is the one that got me turned on to rocket stove technology, and he also made a great Wok out of an old agricultural disc. Looks like some other people had the same idea. At Lazarus Woks, they resurrect old ag. equipment into modern cooking vessels. The Woks looked pretty indestructible and heirloom quality.
Rocket Stove in an Ammo Can
http://www.minutemanstove.com
Speaking of rocket stoves, one booth had a very nice portable version – built in an ammo can. The MinuteMan Rocket stove is made from a modified ammo can, but it's also insulated for thermal efficiency, and all packs up to the original size, complete with a carrying handle. The design looked very well thought-out, and the insulation also means you can use it while set right on top of a wood picnic table. Great for hiking, camping, and the Zombie Invasion.
Hang-A-Pot Clips
http://hangapot.com/decoratingideas.php
Some of the best ideas and inventions are accessories to popular existing items. The Hang-a-pot clip is exactly what it sounds like – just a plastic clip that lets you hang a pot agains a wall, a post, or any other vertical structure. However, the finished effect can be very nice. You can easily turn a fence into a hanging garden, or repurpose an old pallet into a flower display that will make everyone else on Pinterest jealous.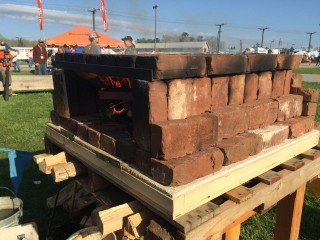 John C. Campbell Folk School
https://www.folkschool.org
The local folk school had a really nice area set up with a blacksmith, wood carver, brick wood-fire bake oven, and plenty of "Olde-Time" demonstrations. In enjoyed speaking with the Blacksmith. I still have no idea how the wood carver made that toy propeller spin…..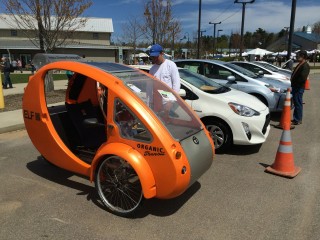 Land of Sky Clean Vehicles Coalition had a nice display of alternative vehicles. While most of them were commercially available vehicles from local dealerships, it seemed like most of the attention went straight to the ELF – an unusual pedal/electric four-wheeled bike car. Another new favorite was also on display, the BMW i3, an all electric car with styling unusual enough to catch people's attention, including rear "suicide doors".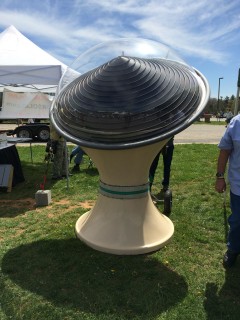 KCOR Solar
http://www.kcorsolar.com
KCor Solar had an interesting display of a self-contained solar water heating system. While it looked like something from a 1970's vision of the future, it was a clever design and included an integrated pump system and a buried 200-gallon storage tank.
I had a great time at the Fair, and I hope that you did too!  I even got to meet up with a relative I haven't seen in a long time, and we went and saw downtown Asheville. On the way out, I saw a Nissan LEAF on the freeway with the custom license plate "4GETGAS". What a trip!
Stay Charged Up, and see you next time!
-Ben