This weekend, I found myself having a bit of fun building interesting Plug-in Vehicle projects.
Recently, I've been chipping away on my diesel engine, updating the old glow plugs to new ones. At the heart of my DIY Hybrid Pickup project is a diesel engine, in this case one that I got from a 1976 Mercedes 240D. My next big hurdle is trying to figure out how to mate it up with a Chevy S-10 manual transmission. I have little experience working on transmissions, and that has been slowing the project down. If only I had the manual transmission that would have gone with that particular engine, I would have something to work from. Alas, there's not that many 40-year-old manual diesel transmissions kicking around. However, I was able to locate one through the web that was at a salvage yard about two-hours-drive away.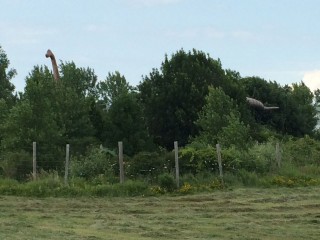 On Friday, I had a job that would be finished by a little after 1 PM. After that, I hit the road to head north from the Milwaukee area, past Oshkosh (the Osh-Vegas campground was packed!) past the (other) EAA and up onto the roads less ventured. It's always interesting to see what's out there once you are off the main roads. Wisconsin seems to have a strange affection for "roadside oddities", and this trip didn't disappoint. I saw a full-scale Brontosaurus and T-Rex at a closed-down golf-course. On the way home, a giant fiberglass pig advertised a local meat-cutter.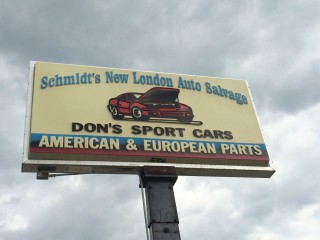 I finally arrived at Schmidt's New London Auto Salvage, a lively junkyard with plenty of crashed cars on display up front at huge discount prices and a big yard out back. I had called ahead to make sure they would have the transmission. Looked like it was a busy day there. As I pulled in, one guy was loading a pair of engines into the back of a pickup. I headed in to where the sign said "Office" and inquired about the transmission. The owner was busy on the phone, but got to helping me right away as he was finished. I was glad to see the transmission was already in the front. I was helped out by "Junior" and another employee, and it didn't take long before I was explaining what it was I really wanted to do. I told them about the concept of the diesel engine and forklift motor to build a hybrid truck. Right away, the one guy's eyes lit up, and said "Hey, I know what you need. Come over here." I followed him into the side yard, expecting to see a half torn-apart forklift, and instead saw a silvery flat rectangle – a battery pack. "It's from a Ford Escape", my escort announced. Sure enough, "Ford Motor Company" was emblazoned across the top of the case and "300V" was listed on the small warning sticker.
I had already spent two hours to drive to the middle of nowhere to get an old manual transmission for a diesel, and on top of it, they JUST HAPPEN to have a hybrid battery pack kicking around. Not only that, they also had a Prius inverter (which I really had no need for) and I had JUST MISSED three Prius battery packs.
I paid for the transmission and battery and the guys strapped down the battery pack to a mini pallet and loaded it in the back of the truck. "Come back here and see us when you finish that hybrid truck project" was the parting words from the salvage yard.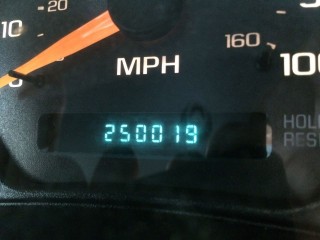 On the trip home, I rolled 250,000 miles on the truck's odometer. It's started leaking oil lately and about time for a new engine. Maybe now is the right time for a hybrid upgrade anyways.
Although the trip home was otherwise uneventful, I did still have to figure out how to get the battery pack out of the truck. It weighs about 200 pounds, and is an awkward shape. I didn't have a forklift, but I did have a plastic cart that was about the right height.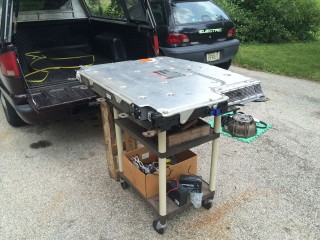 I slid the battery off the tailgate and onto the janky  A/V cart. Carefully,  I rolled it into the garage, trying to keep it from tipping while going over not just the bumps, but also the cracks in the concrete big enough to lose a wheel in. At this point, the cart was starting to lean, and the one crack in it was looking larger than usual. Fortunately, I made it over to my chain hoist.
Conveniently located on the side of the battery pack were a pair of blue straps tucked away and held in place with a bolt. I unthreaded the bolt and pulled out the strap, revealing six inches of strap that I could hook a chain to. A few minutes later, I was relieved to have the weight of the battery hanging from the ceiling, instead of on a junk cart, although it was now suspended over the diesel engine and my electric motorcycle. Still, I felt like I had come a long way since pulling the engine out of the Geo Metro with little more than a clothesline and will-power.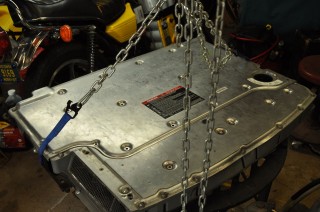 A 300V battery pack has some possibilities. For one thing, I have a dead Mitsubishi iMIEV sitting in the other half of my garage. The deadest part was the battery pack, which swallowed more than its share of Atlantic Ocean during SuperStorm Sandy. Although a Ford Escape Hybrid battery pack is only a fraction the capacity of the iMIEV battery, it's still 300V and has some possibility of being able to power the car, even if only for a mile or so. Unfortunately the water damage ruined all the circuit boards in the car, so it's going to be a lot more work than simply replacing the battery if I wanted to run it as a stock electric car. The other fun possibility for the battery is that it make work well for an electric motorcycle battery pack. 300V at 5AH works out to 60V at 25AH. Not a giant battery pack, but only higher voltage and lighter weight than my old four Optima YellowTops.
Speaking of the Mitsubishi, last week, I called up my buddy, Tom, to see if he could give me a hand testing the motor. (You probably remember him from the AC Dodge Neon project.) We figured that we could see if the motor at least works or not by trying to drive it with a known good motor controller. An industrial AC variable frequency drive should work fine running off the 240V outlet I use for my welder. Tom is supposed to come out tomorrow to lend me a hand with this, so I thought I'd get started my jacking up the car and getting at the motor and controller.
The controller is pretty easy to identify. It's right on top of the motor and has 5 high-voltage orange cables, two for the battery and three for the three phases of the AC power. I pulled out all the bolts holding the cover of the controller on. No worries here about electric shock, the battery was completely dead and removed months ago. (I still have to figure out where to go to recycle the lithium cells!) Once the cover was off, I got a look inside. There was corrosion on the battery cables, but the motor connection cables looked good and clean, as did all the copper and circuit boards in the controller. For all I know, the controller works fine.
I disconnected the motor cables from the controller, figuring that we can connect our test controller straight to those for a simple connection. So that's it for my weekend. Now, I'm waiting for Tom to stop out and see if we can figure out that motor. It feels good to finally be working on some projects again!
Til next time, stay charged up!
-Ben