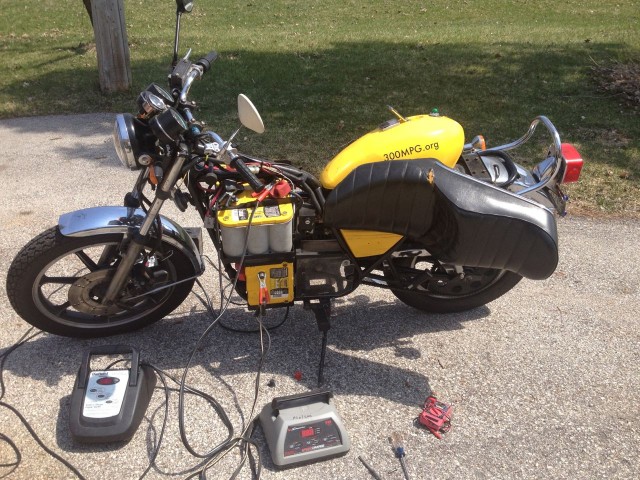 Weather in Wisconsin is weird. Last week, it was snowing. This afternoon, it was 75 degrees and I swatted my first mosquito. Go figure. Well, while I had the chance, it was time to break out the electric motorcycle for spring.
One of the many things I like about electric motorcycles is how EASY they are to winterize and to get back on the road in the spring.
Actually, the first biggest hurdle is getting everything else out of my way in the garage to physically get the bike out! After that, it's just a matter of checking battery voltage, put a little air in the tires, and check the chain and brakes. There's no gunked up carburetors, no oil change, no loud exhaust, no adding fresh gas.
This  year, however, I DID have a problem with the batteries!
I removed the gas tank cover to be able to access each of the four batteries, and found that they were ALL low! Where did I go wrong? Did I forget to do a good full charge before storing for the winter? I'm not sure. I put four individual chargers on for a few hours, tested the voltage, and took it for a spin around the block, and everything worked great! The worst I really had to do was top off the batteries, but still, it shows how they are aging. Oh well, it's been about seven years now since I've had these batteries, which sounds about right for a set of lead-acid. Maybe I'll have to start saving up for that replacement lithium pack…
I'll be showing off the cycle at an Earth Day clean transportation event in two days, so I wanted to get everything ready. Besides simply making sure the bike was running, I had also created a little custom graphic for it, using the vinyl-cutter at the Milwaukee Makerspace. I created some black lettering for the cycle, and some white lettering for the Hymotion Prius.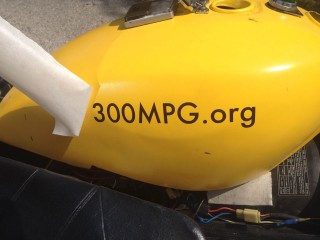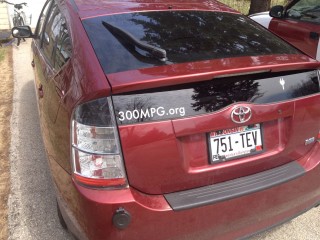 Speaking of other spring fun, yesterday, I attended the DRIVE SMART WISCONSIN meeting. It's always a good time with Milwaukee area folks getting together, showing off their cars, a formal presentation, discussion, and a pot-luck lunch. Vehicles of the day included a Ford Fusion Hybrid, Nissan Leaf, Ford C-Max Energi, gen 1 Honda Insight, and every flavor of Prius. For something different, I brought along my solar-powered power-wheels. I wanted to show how it worked, and since there were no small children there to drive it, I also demonstrated how a double-jointed adult can drive the tiny solar car! (If you are on Facebook, check out the club's Facebook page.)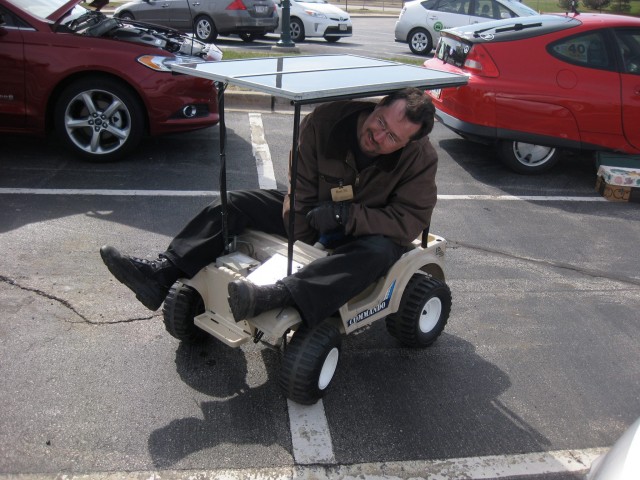 In other fun, I also got to be a guest on TRANSPORT EVOLVED, the web's #1 internet electric vehicle talk show. We talked about recent EV news including how to get a speeding ticket in an electric car. You can see the April 18th show and read show notes at http://transportevolved.com
So, the sun's been shining. It's that time of year to transition from 30 below zero when I can't work on projects at all (except maybe the Ice Scooter!) to being WAY too busy to get anything done.
I hope spring is treating you well so far. So get out there, save some gas, and have some fun.
Take care,
-Ben