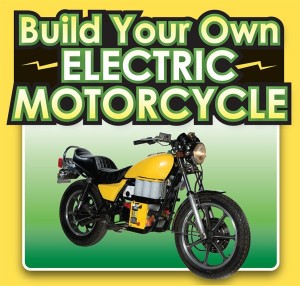 http://www.instructables.com/id/Build-Your-Own-ELECTRIC-MOTORCYCLE/
Well, right now is "the big push". I've slowly been trying to get more information out there, teaching people how to build their own electric motorcycle. But it never seems like anything gets done until there's a deadline or some other reason to really put in the work. Recently, Instructables has posted some pretty nice contests, so I thought it was time to put in the effort and fully-document all the steps it took me to build my electric motorcycle.
I've just spent the last, what is it now…. four or five DAYS of effort sorting through everything I did on the project and put it together in a logical manner, along with photos and videos.
I hope you enjoy the work that I put into BUILD YOUR OWN ELECTRIC MOTORCYCLE on Instructables. Remember, it is entered in a couple contests, so if you like what you see, please let everyone know by voting for it!
In coming days, I'll also be expanding the information I have on the cycle right here on 300MPG.org. If you are really interested in building your own cycle, consider ordering a copy of the instructional DVD!