This past weekend, I was invited to show off my homebuilt electric car at a clean transportation event.
The big rumor was that there MIGHT be a Chevy Volt there as well. I couldn't miss that. About an hour or so after I was there and all set up, the Volt showed up.
It was the black and grey two tone  paint job. From the outside, the car doesn't really look that big. With the hood open, it looks pretty darn complicated. Plenty of orange cables, oil dipstick, clutch cables – it lacks the simplicity of a standard EV.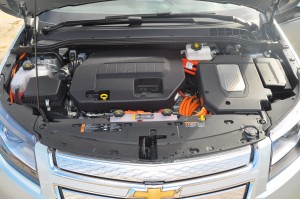 One of the first things that I noticed is the fact that the Volt is trying to "hide" the fact that it has an exhaust system. The back bumper is straight and smooth, with NO KNOCK-OUT for the tailpipe visible from the rear. Down at ground level, you can see the muffler and tailpipe. The tailpipe is bent down, so the only notch in the rear bumper is on the BOTTOM of the bumper, where it can't be seen.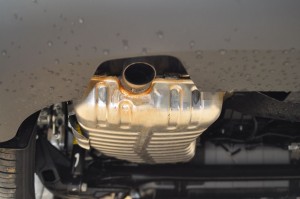 The gas tank is clearly visible from under the car. That plastic fuel tank isn't likely to rust! The underside of the front of the car is fairly smooth, but the back end didn't have any sort of underbody aerodynamics applied to it.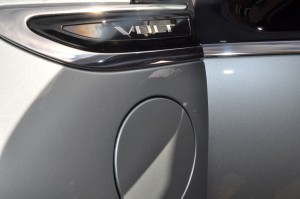 The charging port is on the driver side, and looks exactly like the gas cap cover, which is on the rear passenger side. From the outside, it looks as though the car might have two gas tanks.
Cargo space in back is pretty good. Another concern that I had was elbow room in the back seat. Even through the car has a "T-bone" battery pack, it's low enough that it doesn't hit your elbows, but it does make it a 4-passenger car instead of 5. I do like the way the back seats flip down. The folded seat backs line up almost exactly with the battery-box/cupholder console of the back seat, making a good size cargo area. Combine that with the fact that IT IS a hatchback, and it will be a pretty functional car for traveling salesmen and their ilk.
Leg room in the back seat was fairly good, except when a 6'2″ driver hopped in.
See for yourself in the video:
The next video will cover going for a ride in the Volt. Look for that soon.