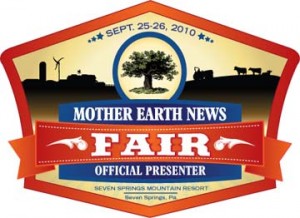 Well, my presentation on low-budget electric car conversion at the Mother Earth Fair was a success!
Since this was the first time they have done one of these fairs, I had no idea what to expect. Fortunately, there were plenty of volunteers around, and the organizers did a great job to put the whole event together.
My presentation was in one of the lecture halls, which holds a little over 150 people – and it was full.
Giving presentations in not my strong suite. I am by no means a professional speaker, and frankly, stage fright gets me every time. But I think I do pretty good job once I get speaking on a subject I am interested in.
The presentation time slots were 45 minutes. That's really only enough time for an overview on a project like my electric car. Ideally, I could have spent that much time on any single subject, like batteries, motors, or couplers.
My real goal with a presentation like this, is just to inspire people to try new things for themselves – to learn new things – and to take an active role in their lives, especially when it comes to ecology AND economy. With that goal in mind, I set up a video camera in the back of the lecture hall to capture the presentation. The recorded video is divided up into seven sections for anyone to watch through YouTube.
For those of you who couldn't make it to the Fair, we'll see you there next time. For now, here's video of my presentation BUILD YOUR OWN ELECTRIC CAR: CHEAP.