[Editor's Note: The following article is an English language translation of an article by Monika Pacyfka Tichy, first appearing on the Motormania.com.pl web site. Photos by Motormania.]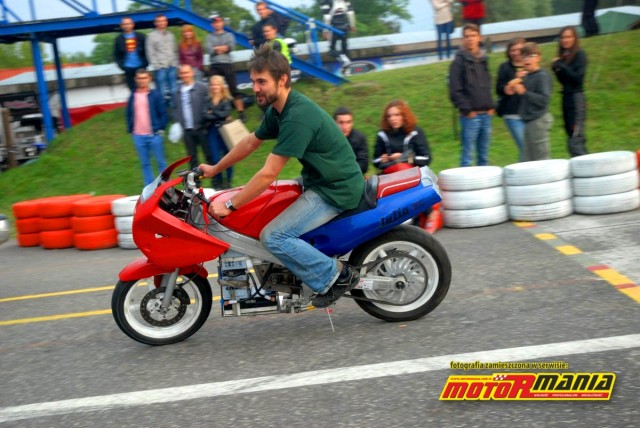 Photo via Motomania.com
'Electric Julia' is an electric motorcycle prototype with computer-controlled power output purpose-built for motorcycle Gymkhana championship. Meet the private project of Chris Kupiec from Krakow, Poland!
Chris, or more formally Krzysztof R. Kupiec, has the dark eyes of a dreamer, that brighten with sparks of genius. On a rare Honda VF 400F (NC 13) from 1985, a bit younger than himself, he was successful in navigation road racing.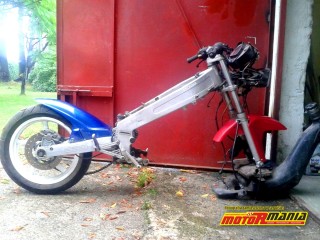 On the same motorcycle he competed in the 2012 season in the Honda Gymkhana Cup reaching 12th place (out of 73) in the final round. Soon after, Chris began his own project – to build an electric motorcycle for Gymkhana. The entire effort lasted almost a year. The initiative was completely private and fully paid for by Chris. He wasn't using financial or technical support of any companies or institutions, instead he received help from his friends.
What was the driving force for this project?
"I had this need to create something which would be very mine and that would last. Like a child – in fact I'm in the right age for that

I wanted the project to be innovative, and to allow me to fully use my knowledge potential. Why I've chosen a motorcycle and not an electric juicer? Well, motorcycles are my passion. Also I was wondering how to improve my results in Gymkhana competitions, and I didn't want to ruin my Honda for this motor-sport anymore – there is a risk of frequent falls. CBR F3 and F4 are cool, but it was not what I wanted, so I decided to build my own horse." (Horse, means "motorcycle" in gymkhana riders slang. Gymkhana is a motorcycle time trial sport in which riders compete to maneuver precisely through a paved course restricted by traffic cones.)
So in this way Julia RS 600 was conceived, first in Chris' mind, to be a purpose-build sport motorcycle with particular emphasis on Gymkhana motor-sport. This means that motorcycle needed to be light and powerful at the same time. The main assumption was that electric based drivetrain will allow almost instant maximum torque and power, which result in great acceleration – one of the key elements in Gymkhana.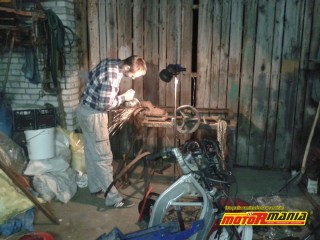 Not to waste energy
Some components were already prefabricated and other ones where made from scratch. The first part from which all the work started was the frame. The frame came from Italian Gilera MX 1, two-stroke which had it's history in racing. The fairing was modified. An entire innovative system of mounting the motor and placing the battery packs together with power supply system were designed by Chris and the team. The motor was imported from the USA, and it's intended for scooters, golf carts, or lawn mowers.
"The motor is very efficient," Chris says "in internal combustion engines 4/5 of energy is wasted, this means energy is converted into the heat and cannot be efficiently converted to useful work. Sweet thing about electric motors is that they can harvest 90% of energy. It's like to ride 60 miles only with 0.16 gallons, or in other words ca. 375 mpg. The score for which Sheiks would stop to like me."
Nevertheless, the key issue is energy storage, it's hard to store electric energy in the 'jars'. Gasoline is an interesting option mainly because it easy to handle and has great energy density.
Before the era of steam power, people were using horses for transportation. Horses obviously were getting tired, and they had to stop to rest and eat after some time. Mechanical vehicles created a whole new paradigm of transportation. The internal combustion engine is like an immortal horse – never gets tired. In the era of fossil fuels it is a man, the driver, that is the weakest link. The transition to electric vehicles at some point would bring us to the starting point – because the batteries must be recharged periodically. And a man on a motorcycle does not want to be limited.
"However,"  Chris is wondering "the average European drives ca. 19 miles a day, so maybe electric motorcycles could be a good solution for people commuting to work?"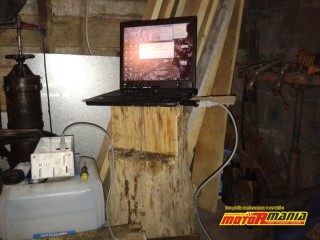 Motorcycle with AAI (almost artificial intelligence)
One of the important goals of the project was to achieve full control of the behavior of the motorcycle, and his reaction to turning the throttle – throttle control. Julia RS 600 doesn't have throttle cables directly connected to the engine. All the inputs go the brain-computer which controls the behavior of the motor. The Julia RS 600 is fully programmed how to response to the throttle roll on – whether to immediately give full power, to be 'sharp', or to do it smoothly.
How does it work, are you communicating with her (Julia) via USB?
"I open the lid, plug the cable via RS 232 and I'm programming the motorcycle with my laptop. It is done in thirty seconds. I can set her up regarding the course on the Gymkhana competitions. For example – if I'm dealing with relatively long straights, rolling on the throttle will result in rapid power output, on the other hand if track is tight the response is also instant but power with increase smoothly, preventing Julia RS 600 from wheeling."
Therefore this motorcycle can adapt to the individual preferences of the rider. There is also a potential for further development of the prototype – an option that Julia can sense the "mood" of the rider on a given day and adjust power output correspondingly.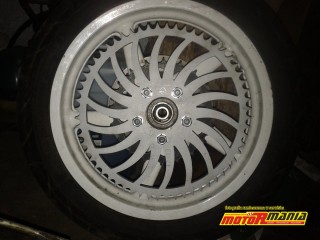 The motorcycle is designed to ensure acceleration of around 1G and thus in every second it speeds up another 8.3 m/s. The maximum speed for practical reasons is limited to 44 mph, because higher is not needed in Gymkhana and because the acceleration was causing shift of riders' liver on his back LOL. "Julia did not put on weight," says Chris. It weighs ca. 330 lbs. and has a power of 18kW. Julia is created especially for Gymkhana so huge pizza style final sprocket is a must.
With a "little" help from my friends
When Chris started entire project in the autumn of 2012, he knew that it will be hard to do it alone till the end of the next season. With time and needs, new companions were joining the team – people of different backgrounds, sharing passion for motorcycles and passion for innovation, people open to new ideas. Selfless people.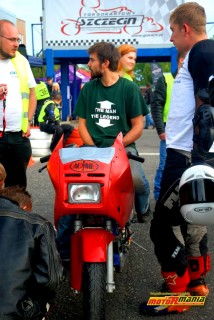 "There are very few people willing to work for a gummy bears" says Chris, who from the design engineer had to become a coordinator tying up every level of team work. The project, which began in Krakow, was than implemented in Warsaw, supported from Wroclaw, and finished in Szczecin. Team was made of: Arecki (hand-on skills, natural born mechanic), Kuzyn (electronics and electric engineer), Oscar (not only handyman, but first a good man), Dziaga (financial issues), Struzio (market research, search for parts, concepts). Exchanging all the necessary information regarding financial issues, design ideas, selecting the right motor, calculating aerodynamics, weight distribution and hundreds of other aspects was a great challenge for this intercity team. Warsaw branch of the team had weekly meetings with Chris, who communicated with other team members. Whole team has never meet in one place, some of the members have never seen each other. Very twenty-first century.
'Run out of one day'
Julia made her debut on the final GymkhanaGP contest in Szczecin, September 2013. Due to unfortunate circumstances – from a major motor failure just a few days before competitions to misleading GPS coordinates. – Chris missed the competition for a few hours and had to present a motorcycle  without being classified in the overall standings. After a fault with the motor, Chris needed literally one day to tune the machine once again. Dramatic act of overnight adjusting the motorcycle just several hours before competition, Chris refers to lack of sleep as a positive experience. Chris usually likes to be on time, not before time.
"I am pleased that due those circumstances project was finalized in Szczecin, because it is the capital of the Polish Gymkhana, and also here was located former SFM – Szczecin Motorcycle Factory – where the famous "Polish Harley" – Junak was assembled in 50s and 60s."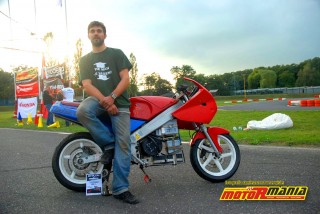 Chris hopes that Julia RS 600 will make some noise in the next 2014 Gymkhana season. And that it will be 'noise' in media, not audible sound. Julia is in fact a completely silent machine.
"It was a remarkable experience – on the track in Szczecin I tried to cross the driveway full of people, and for the first time in my life, sitting on the motorcycle, I literally was asking people to let me pass through – the crowd did not notice that I was riding."
Chris concludes: "I thank my team – Arecki, Kuzyn, Oscar, Dziaga, Struzio for the time and effort put into the creation of Julia! Your support is a priceless experience for me! There are also a bunch of people who have supported me with kindness, a kind word, a helpful hand. I thank you all! A special thanks goes to my family and friends and to Baran Family, to Adasko and Dziki and his family and to Struzik family. I believe that reputation of your kindness will precede you in your life! "
[To see the original article, please visit: Motormania.com.pl]